4BR Roadtest: Flugel fancy?
2-Sep-2008
Brighouse & Rastrick's John Lee has had his hands full of late picking a flugel horn for himself. This is what took his flugel fancy...
---
Introduction: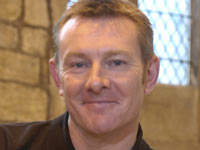 After joining Brighouse earlier in the year, I was charged with the task of finding myself a new flugel horn.
Having played on a Yamaha Maestro for many years, I was tempted to bite the bullet and go straight for another updated model from the Japanese makers, but the chance of trying others out was too strong, especially as the choice these days is pretty comprehensive.

My thoughts are based entirely on having tried all the following instruments without the promise of being offered one free of charge in exchange for a good review, so from that point of view, my findings are totally unbiased.

I was looking for something that would fit easily into the brass band, with a lovely round flugel sound. It had to have excellent build quality, tone and intonation, whilst playing for a Yorkshire band, it also had to be value for money too!

Increasingly, over the past 10 years or so, I feel many flugel players sound like cornet players who have taken the easy option of playing the instrument to fill a gap in their CV, so it was important to me that which ever instrument I chose, sounded like a true flugel for the dedicated brass band flugel performer.
---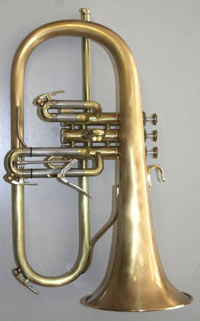 Eclipse:

Having visited the factory in Luton, I was amazed to find so much choice with this instrument.
The one I tried had the gold bell. It was easy to blow with a good range, lovely tone and the sound projected really well.

The valve action was pretty good and overall build quality was excellent.

However, for me there were far too many tuning issues for an instrument with a price tag of around £2000.
For that price I expected a little bit better, although it was a good instrument nonetheless.

For further information go to:

http://www.eclipsetrumpets.com/2005/welcome.htm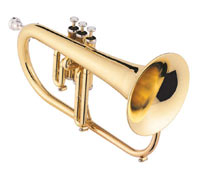 Jupiter 846RL:

This is a nice looking instrument, with a good quality lacquered finish. The intonation was spot on and again, the sound projected well, but the tone was a little too strident for my liking when it was really blown.
The valve action was good, but the instrument was quite hard work in the upper register.
The build quality was excellent for an instrument around the £700 RRP mark, but I found the sound a little too much like a trumpet for my tastes, and that would make it difficult to blend into a horn section and a warm sounding brass band.

For further information go to:

http://www.woodwindandbrass.co.uk/acatalog/flugelhorn_jupiter_courtois.html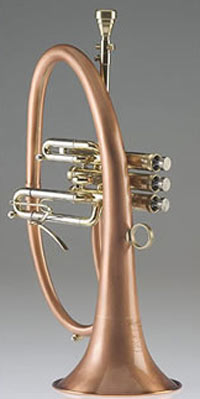 Taylor Phat Boy:

Having heard so much about this beautiful looking instrument, I couldn't wait to get my hands on it.
When it arrived, it had the feel of a very well built handmade instrument. That was further confirmed as it was easy to blow, the sound projected well, and it possessed a rich dark tone.
The valve action was fantastic and it seemed to soar in to the upper register. The beautiful flugel sound was there and the tuning was spot on.

It had everything going for it… until I tried to blow a bottom C or below.
There simply were no bottom notes in the instrument – and I can tell you I tried.

I think the instrument is probably more suited to jazz, and that lack of low register security means that it wouldn't be a viable option in the brass band environment – and it is very expensive!

So as they say on Dragons Den - " For that reason, I'm out"
For further information go to:

http://www.taylortrumpets.com/phatboy_flugelhorn.html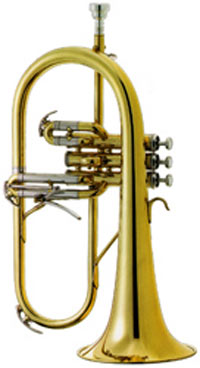 Weril Regium Pro Series II Bb Flugelhorn EF9171:

This was an OK instrument – and I mean that it was just OK at everything it did, nothing more, nothing less.
In fact, nothing stood out as it produced a fairly neutral, bland tone, seemed well enough put together, was pretty much in tune throughout the register and offered value for money.

It just didn't excite though in any way and seemed to be an anonymous instrument in all respects.
I understand it was made in Brazil. Perhaps they'd be better sticking to football.

For further information go to:

http://www.woodwindandbrass.co.uk/acatalog/flugelhorn_jupiter_courtois.html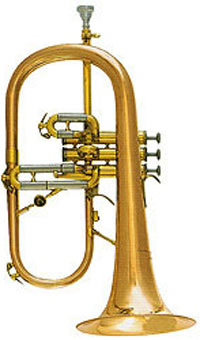 Courtois 154:

This was the instrument that belongs to the band. It's well built and the 3rd valve trigger is perfectly positioned.
The valves seem very long though, although they work superbly well. It blows really well in the lower and middle register, but there was quite a lot of resistance in the upper register.

The sound projection is superb, but I did struggle to get any tonal warmth out of it.
Yet again the age old flugel problem reared its ugly head. Tuning! For all its ease of blowing and sound projection it was one heck of a poor instrument in terms of tuning.

Nothing seemed centred or comfortable and I felt that having to try and accommodate false figuring was too much of a handicap.

For further information go to:

http://www.bandsupplies.co.uk/StockItem.asp?StockCode=1074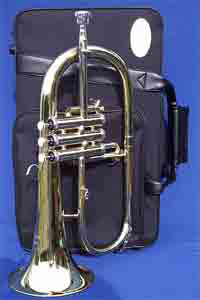 Virtuosi VB311L/RB/SP:

This instrument was almost the one.
It arrived beautifully packed, well built with a distressed antique finish. It really did look the part and on playing, it lied up to my early expectations.
It was very easy to blow, produced a beautiful tone, had great valves and played well really well in tune throughout the register.

It was a lovely flugel sound, but a small one and personally for me the sound didn't project as I hoped it would. It seemed to come out of the bell and stop.

Perhaps it was the finish on the instrument restricting it, but try as I could, I felt that it just lacked that essential projection that a modern flugel horn requires in a big blowing top section brass band.

Almost though!

For further information go to:

http://www.jpbrass.co.uk/view_instrument.php?ref=231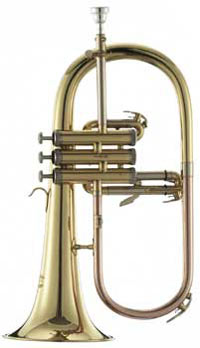 Thomann FH600GS:

I sent for this instrument from Germany and on unpacking it was amazed to find it was to my eyes, an almost exact copy of my Yamaha Maestro.
It has all the attributes of the Maestro too, just not quite as good.
The build quality lets it down slightly, as there were little bits not quite finished off round the joints, but for around £200 they are cracking value for money.

The basics are all in place too, with the instrument producing a warm sound, decent intonation and tuning and good projection.
At those prices you can't ask for much more, but I wondered just how long it would last.
For further information go to:

http://www.thomann.de/it/thomann_fh_600_fluegelhorn.htm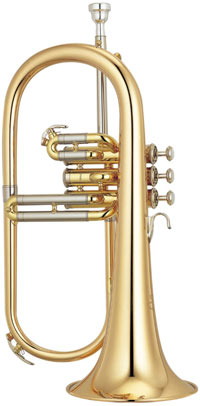 Yamaha Maestro YFH631G:

This is my own instrument and after all the trails and tribulations, I will be sticking with it.
The Yamama. is not without its faults, but for a flugel horn that has to sit comfortably in a brass band, it is as good as anything on the market at present for me.

It has a warm mellow sound, it projects well and in comparison with most of the flugels I've tried, it's in tune.
If only Yamaha would do something about the valves. Of all the instruments I have tried, this is the worst.

They are bottom sprung valves, but the ones which seem to perform the best are the ones which are centre sprung, so our Japanese friends could do with giving it a update.

For further information go to:

http://www.normans.co.uk/Items/yfh631g?&caSKU=yfh631g&caTitle=Yamaha%20YFH631G%20Maestro%20Flugel%20Horn
---
Overall:

Having tested eight instruments over the summer months, my final thought is this - "Beware of expensive imitations".
Quite a few of the instruments I have tried are almost exact copies of the Yamaha Maestro, although they do vary in price from around £200 to the £2000 mark.
All of them seem to have their own little problems and the Maestro is no exception. Some of them are perhaps better suited to jazz, but for me, the one which produces the lovely flugel sound required to sit comfortably in the British style brass band is still the Yamaha Maestro. Get your finger out Yamaha and do something about the valves though!
---
John Lee:

John began his playing career at the age of eight, playing with Sheffield brass groups and with the Sheffield schools brass band. He was guided by his father and later by his tutor Ray Hollingworth, eventually studying for his Royal London College of music exams.
Having played with a local village band, John eventually went on to play for the City of Sheffield band, which over time became the U.E.S Stocksbridge band. He has studied under some of the finest musical directors in the country, and has guested for some of the countries top bands.

Throughout his playing career John has toured extensively in the U.K, performing at some of the finest concert halls in the world, including the Royal Albert Hall on many occasions.
He has also toured in several European countries such as France, Holland and Germany, as well as a thirteen date concert tour of Australia, which took in Perth, Melbourne, Sydney and Brisbane. After a brief spell away from the music scene, John made a return to playing in 2004 with the Sheffield based brass ensemble " The Brass Players"

John's natural talent has been the catalyst for countless radio T.V and film appearances including work on B.B.C radio, several national lottery shows and featuring in Britain's most successful film ever "The Full Monty"

He was invited to join Brighouse & Rastrick earlier this year and in his own words " To be asked by The World Famous B&R At 48 is a real honour"

In his spare time John is somewhat of a sportsman, which culminated in him managing the England six-a-side footbal team in the Budweiser world cup in Korea in 2002, where they came back as world champions.

John's playing career is steeped in brass band traditions, and is regarded by many as one of the finest exponents in his chosen field of the flugel horn.
4barsrest Classifieds
Stannington Brass Band
A SOLO TROMBONE player required for this 1st Section Stannington Brass, Sheffield. Sensible balance of concerts & contest...
Newark Town Band
Date: 26-May-2013
Venue: AEC Commercial Vehicle rally at Newark Showground, Nottinghamshire NG24 2NY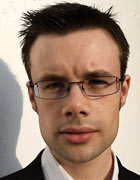 Jack Smith
BMus (Hons) MMus ATCL
Conductor, Composer/Arranger, Teacher