4BR Roadtest: Alliance mouthpieces
19-Jun-2008
4BR looks at some of the latest mouthpieces from Alliance. Are they the biz?
---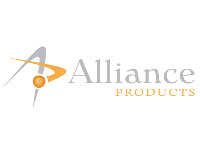 Strange as it may seem, but however much money you spend on a new instrument – from cornet to tuba, one of the last things a player tends to do is worry about the small bit of metal they need to use to make the thing sound as if it is worth the outlay in the first place.
Historically, making the right choice of mouthpiece has been a rather haphazard mix of supply and demand, good intentions, and at times, a sneaky bit of snake oil salesmanship.
And whilst there has been a whole mini industry of mouthpiece providers out there for players to choose from over the years, consumer preference hasn't always led to good consumer choice.
Right choice

Choosing the right mouthpiece to do the right job is just as important as a footballer choosing the right set of studs for the boots he has to wear on the pitch.
If you don't want to sound like the brass band equivalent of John Terry in the Champions League Final, then you better wake up to the fact that making the right choice could save you a great deal of future embarrassment. Slips don't just come from not being in practice – they also come with not having the right tools to play on too.
Alliance Products are the latest producers to enter the marketplace with a full range of bespoke mouthpieces ranging from soprano, trumpet and cornet, through flugel, horn, baritone, euphonium, trombone, to French horn and tuba.
Range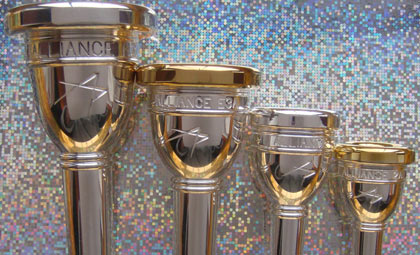 The Alliance range - from soprano to tuba

At present they have over 60 different mouthpieces to choose from and were developed from trials and feedback from a pretty impressive list of artists, including James Gourlay, Steven Mead, Jamie Prophet, Lesley Howie, Jorgen van Rijen and Roger Webster.
It is that latter name that will most interest brass band performers as the current principal cornet player of the Grimethorpe Colliery Band has been able to use his considerable playing and entrepreneurial skills to team up his new business with Besson Musical Instruments.
He has also done a great deal of research into the physiology and dynamics of brass playing too (he is proper Doctor), so he knows what he is talking about.
Buy a new Besson Sovereign and it comes with an Alliance 'Standard' range mouthpiece, whilst the Besson Prestige range of instruments now come with the new Alliance 'Prestige' mouthpieces – including the eagerly awaited Prestige tenor horn.
For a manufacturer such as Besson to get on board with Alliance is a major coup, and whilst Roger Webster has himself been a long term endorsee of Besson products, after decades of their instruments coming with the all familiar golden appendages of Denis Wick, it signifies a major move on their part, and a significant endorsement of the Alliance brand.
Litmus test

The litmus test however is whether or not the mouthpieces are any good, or are they, as are found on many cheap Chinese instrument imported stock, as much use as a bit of scrap metal?
4BR has had its hands (and lips) on a selection of the range for a few weeks now and has asked a variety of players to put them through their paces.
Each of the mouthpieces came from the mid range in terms of cup diameter and depth (those aimed more experienced players) from each of the 'Prestige' range.
---
Cornet: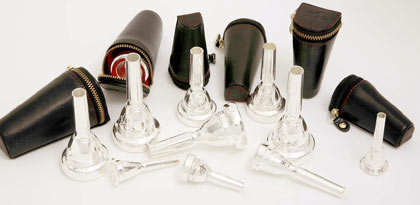 The mouthpiece we tested was the Prestige 2a, which has a cup diameter of 16.75mms and what is described as a 'medium' cup depth.
It is a slightly shallower version of the Prestige 'w', which itself is the wider rimmed version of the Prestige '2' used by Roger Webster himself, and has characteristics in comparison with the Denis Wick 3 mouthpiece.
Our tester found it responsive, giving a slightly brighter, clear edged tone, whilst the slighter wider, rounded rim gave a comfortable feel on the lips. It did what it needed to do too, with easy production, the ability to accommodate dynamic control and with no adverse problems to existing intonation.
Our tester liked the 'feel' of the mouthpiece and especially that clear edged projection.
For those back row playing in mind there is a larger diameter, deeper depth Standard 1 mouthpiece, whilst those looking for something to help them with their top end range may well look at the 16.50mm, shallow cup 3b.
Soprano players are catered for with a brand new 16.25 diameter, standard cup mouthpiece or with a S+ version that has a deeper cup depth for a bolder sound.
Price:
Standard: £26.00 (inc VAT). Gold rim/cup option is £5.00 extra
Prestige: £30.00 (inc VAT). Gold rim/cup option is £5.00 extra
---
Flugel:
The Prestige 2wFL meanwhile is a narrower version of the 1FL which is aimed to give the authentically big, dark and much more mellow flugel sound.
It has a cup diameter of 16.75mm and deep cup, but with a wider rim for added comfort to aid those players in brass bands that tend to use some pressure when playing (don't we all!).
In comparison it is very much like the Denis Wick 2, but with that added bit of lip padding that will hopefully give a little bit of extra stamina.
For those looking for a 'crossover' mouthpiece, Alliance produce a shallower 16.75mm cup diameter mouthpiece with comparisons to the Denis Wick RW3 or a real old screamer type 4J, with a shallow cup to help you with those notes in the test piece stratosphere.
Our test player found the Alliance 2wFL responsive and comfortable and crucially didn't change the darker, more mellow sound they wanted to play with.
Price:
Standard: £27.00 (inc VAT). Gold rim/cup option is £5.00 extra
Prestige: £31.00 (inc VAT). Gold rim/cup option is £5.00 extra
---
Tenor Horn:
The tenor horn mouthpiece we tested was the Prestige TH2, which has a cup diameter of 19.00mm and a deep cup.
It is aimed to be the lead mouthpiece of the range (designed with input from Leslie Howie), not as deep as the Prestige 1, which is aimed at stronger, full bloodied section players or the Standard 4 or 4a which are geared more towards starter players with cups that make higher range playing a little easier for developing embouchures.
This one is the solo horn type – with much in comparison to the Denis Wick 2, but with a heavier feel and new rim. It is the mouthpiece for the serious exponent.
Our tester was impressed with its flexibility and response, the accuracy of the sound it helped create and the ease of production and good intonation. It gave the instrument are clean, bright sound – again, ideal for that degree of clarity a lead voice requires.
Price:
Standard: £27.00 (inc VAT). Gold rim/cup option is £6.00 extra
Prestige: £33.00 (inc VAT). Gold rim/cup option is £6.00 extra
---
Euphonium/Baritone:
The euphonium model we tested was the Prestige E4, which is the smaller version of the Prestige 2, which has been developed and designed by Steven Mead.
Our two testers did find this one a touch small for them (they usually play with Denis Wick 3 mouthpieces), but they were impressed with the responsiveness, projection and the sound it was able to help produce. Even on a short test run it gave a great deal of flexibility and allowed for dynamic control.
The diameter size of the E4 is 25.75mm, as compared to 26.40mm of the Prestige 2, although the cup depth is the same. It has comparison with the smaller Denis Wick SM5, whilst the Prestige 2 is much like the SM3.
Those wishing to gain a touch more help with their higher register may well want to go with the 2a, 3a or 4a versions with slightly shallow cups, but for the mature player it would be the Prestige 2,3 or 4 depending on what suits.
Baritone players are catered for with the Prestige 5 and 6, which come with 26.00mm and 25.50mm cup diameters respectively and standard cup depth and bear comparison with the SM4 or SM6 from Denis Wick. Unfortunately we didn't have our hands on these to try out.
Price:
Standard: £31.00 (inc VAT). Gold rim/cup option is £8.00 extra
Prestige: £34.00 (inc VAT). Gold rim/cup option is £8.00 extra
---
Trombone:
Trombonists are a funny bunch when it comes to mouthpieces at the best of times, so unless a manufacturer can provide an almost inexhaustible supply of varieties, giving a would be Don Lusher something that gives them just what is perfect is nigh on impossible.
Saying that our tester was impressed with the Prestige 6, which is the main standard bearer for the 9 varieties of the current trombone range.
Developed by Jorgen van Rijen it bears comparison with the Denis Wick 6BL with a 25.40 cup diameter and standard cup depth. Those who want something a touch smaller can opt for the 6S, 7 or 8 (although the latter two are small fitting).
Those looking for something a touch more fruity can go towards the 5, 4 or even 3 on the tenor trombone range (the 3 has a 26.40mm cup diameter and 'very deep' cup depth much like the euphonium E2 mouthpiece).
Bass trombone players are catered for by the mammoth 28.00mm BT1 with 'very deep' cup that is much like the Bach 1 ¼, or the slightly smaller 27.50mm cup diameter, standard cup depth, BT2 (much like the Conn).
Again our tester was pleased with the Prestige 6 which did all that was asked of it with a very clear and precise sound, generous flexibility and projection that allowed for plenty of oomph when required.
Price:
Standard: £31.00 (inc VAT). Gold rim/cup option is £5.00 extra
Prestige: £34.00 (inc VAT). Gold rim/cup option is £5.00 extra
---
Tuba:
There are 8 different tuba mouthpieces in the current range, and we had our hands on the Prestige 3a, which has been developed by James Gourlay no less, to compliment the new EEb Prestige tuba.
It does bear comparison to the Denis Wick 3, although it is less deep with a cup that does allow for a little bit of extra help for lead tuba voices in the higher register.
That was immediately commented upon by our tester, who found the 31.25mm cup diameter and slightly shallower cup depth very responsive and flexible. Favourable comments were also made on the projection, which was clear but not over bright as well as the comfortable feel on the lips. It seemed to do the job it was designed to do very well indeed.
With more and more use of the higher register in many modern brass band test pieces our guinea pig felt this was an ideal mouthpiece for a lead EEb tuba, as it still had enough about it to allow for plenty of grunt but with a delicate cutting edge when required.
For the players more accustomed to other mouthpiece designs there are the Prestige 4, 4w and 5p, which have cup diameters of 30.50mm but equate in comparison more towards the Vincent Bach 24, 24AW or Perantucci ranges.
Real out and out solo or small ensemble players can also choose the Prestige Solo which is compared to the Denis Wick 4L.
For the lads who inhabit the depths of Beelzebub there is the Prestige H1 and H2 coming in at 32.50mm and 32.00mm cup diameters and 'very deep' and 'deep' cup depths, which James Gourlay has helped to design with a mind to beefy blowing from BBb basses and CC outfits.
We didn't get our hands on any of these but after the EEb players waxed lyrical, both lads wanted a go as soon as they could – and that says something.
Price:
Standard: £41.00 (inc VAT). Gold rim/cup option is £10.00 extra
Prestige: £46.00 (inc VAT). Gold rim/cup option is £10.00 extra
---
Overall: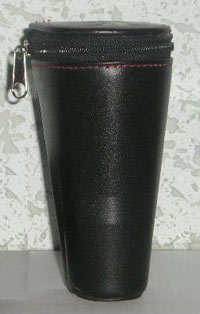 Alliance has entered a fiercely competitive market place, but has done so with two huge advantages.
The link with Besson gives them a real foundation to enable them to provide their customer base with a first hand choice to go with the Prestige and Sovereign range of instruments.
Secondly, they have brought well known brass players to endorse their products – names that young players in particular known well and admire.
Jamie Prophet, Steven Mead, Leslie Howie and James Gourlay are all familiar faces as well as top notch players, and if they endorse something, it has commercial clout – just look what Jamie Oliver has done for Brussels sprout sales with Sainsbury over the years!
That said, it might still be worthwhile doing your homework.
If you are looking to spend a huge wad of cash on a new instrument then see if you can haggle to get the right type of Alliance mouthpiece with it. Alliance has a helpful chart on their website to look at, so it is well worth asking and could make one heck of a difference, especially to a young player.
Alliance have told 4BR that they are more than happy to discuss mouthpiece needs with customers and make sure that they get the right bit of kit to you to play on – with or without the added instrument.
There is a telephone contact and email contact on their website at: http://www.rogerwebster.co.uk/store/index.php?view=contact

These are very well made, neatly designed mouthpieces, with a contemporary look that have been made with very specific purposes in mind. All come in a high quality silver plate finish with the option of gold rims and cups for an extra few quid.
There is more than enough of variety in each of the ranges to give the player plenty of opportunity to find the right mouthpiece for them, and they are competitively priced too.
All that and they come with a trendy leather pouch (which also comes in a very fetching pink for the girls) to make sure they don't get bashed about in the instrument case or of you are the type to want more than one for different jobs, there is also a handy mouthpiece wallet too.
Alliance may well be a brand and look that we become more and more accustomed too over the next few years – and on the evidence of our short test runs, they seem to have got the formula just right.

Website:
http://www.rogerwebster.co.uk/store/index.php?view=home
4barsrest Classifieds
Newark Town Band
NTB have a vacancy for a Principle Euphonium. We are a happy non-contesting band who would welcome players of all abilities,...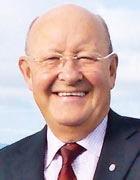 David W Horsfield
F.C.L.
Adjudicator, conductor and music publisher