4BR Roadtest: Besson Prestige BE2028 cornet
27-Jul-2007
4BR has had its hands on the new version of the flagship cornet from Besson. Have all the improvements to a well loved but flawed original instrument once again put the Besson name back at the top of the cornet tree?
---

Introduction:

Now that the dust has finally settled on the demise of Besson Musical Instruments, one question arises above all others now they have been reborn under the auspices of Buffett Crampon.
Do they still make decent instruments?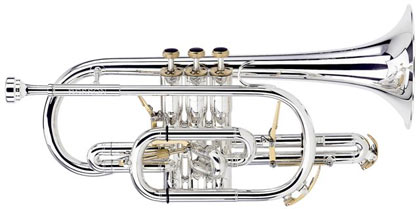 The old Besson Company finally died a death due mainly to the fact that the overall quality of their products in the final years was not up to scratch. In fact, more bits fell off some of some their instruments than parts off a clown's car – although it wasn't funny given that you may have had to shell out three or four grand for the privilege of having an instrument that would spend more time in rehab getting back into shape than Britney Spears.
What they did have in their favour however was that there was still an amazing amount of goodwill towards the products. People who had grown up with Sovereign instruments in particular from the early 1970's were now the 40+ aged players looking to invest in a new instrument either for themselves or their children – and the first place they want to look is at a product they feel they know well – Besson.
Buffet Crampon must have known this when they took on the business – otherwise it was a basket case job.
It has taken them a long time to state that they are confident that what they now produce really does come up to the mark – and beyond. The company also knows that if it gets it wrong this time – especially in terms of the quality of the build of its instruments then they are sunk. There is far too much competition out there today for then to survive with a product that doesn't cut the mustard.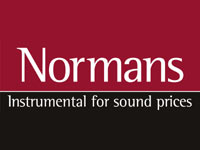 With that in mind then we were given a go of two new Besson Prestige cornets by Normans Musical Instruments over the last month or so. We lent it to our tester to try out and he has come back with this roadtest for us.

http://www.normans.co.uk/
In September 2001 Roger Webster roadtested the Prestige under its Besson banner for 4BR. Then it was seen as the possible saviour for the company and the instrument did score remarkably well (89/100). Mr Webster was keeping a close eye on the quality at the time – something that did fluctuate when he wasn't always on hand at the factory to give them a test before they left through the company doors.
The instrument gained itself a fine reputation to play (although build quality was variable at times), so does the 'new' version, which we are told has been put together with the care and attention it deserves, make it better?

Four categories as always: Build Quality/Design: Intonation; Ease of Blowing/Tone; Overall performance and value for money. The final mark is out of 100.
This is what we found out.
---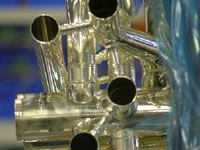 Build Quality/Design:
First impressions of the new Prestige, since take over by Buffet, is that it has improved quite dramatically. Our reviewer was never a great fan of this cornet in its previous guise but this he said was something very good indeed.
The new cornet doesn't look much different than the old model but the build quality is far superior and this reflects very much so in the way it plays and performs too.
For the technically minded the major change has been to redesign the valve block and produce a new microball main tuning trigger mechanism. These were two annoying bugbears of the old model (as even Roger Webster found to his cost at the Europeans a few years back when he had to use a blob of superglue to keep the instrument together – with almost disastrous consequences).
The massed production 'one size fits all' approach to the valve block has thankfully now been dropped and a return to the traditional method of matching piston to chamber makes the valve action is slick and facile. The centre sprung monel valves are excellent and fit snugly into the chamber – just as they should.
The new main tuning slide trigger works very well too – and it doesn't have that Heath Robinson approach to its construction that looked impressive but invariably broke at some point soon after your used it with a bit of force. The new microball system seems much more sturdy (and simple in construction), and the parts don't look as if they have come out of a lucky bag either.
Bore size, bell diameter and weight are all the same, as are the add on bits and pieces – although crucially they do have a feel of being put together with care and attention. Valve tops and caps now also look the part too and are well finished whilst the bright silver plate and lacquer finishes on the models we tested were excellent.

Overall: Still looks the business, but now has the advantage of having the parts of the same quality too.

MARKS: 24/25
---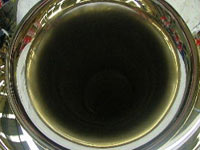 Intonation:
As mentioned above, the main tuning slide trigger is a valuable devise as long as it works and can be relied upon. However, you shouldn't have to really use a trigger like George Chisholm playing the trombone to get your intonation right.
A top class instrument should be pretty well tuned before you put the variable ingredient that is your embouchure onto its mouthpiece, but if it has been made with an eye (and ear) to doing its job well, then the use of the trigger can be seen as an additional bonus rather than a laborious necessity.
The general intonation of the 2 cornets supplied for this test was very good, with the mid and low range having no problems at all. Below the stave there was a real sense of security as long as you don't try and blow it like a bass trombone.
There was the familiar sharpening in the upper register (top G and A) but this is the reason for the trigger we assume. A little practise/experiment with this soon becomes very natural and all problems can be resolved easily, and it was good to note that even if you are giving it a bit of welly you can reign in the waywardness with a bit of thought.
The trigger here is not only useful in the higher register but when using various mutes that can send general tuning either way it save a lot of messing around tuning 'manually' too.

Overall: What was good has been enhanced by the consistency of the 'help' you can use.

MARKS: 23/25
---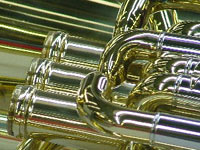 Ease of Blowing/Tone:
One of the things our reviewer didn't like about the old Prestige was the amount of resistance you came up against when really pushing air through the instrument.
This may have been a personal thing but it was a feature mentioned by many other players too. The new cornet has a much more open feel (again not as free as Yamaha models perhaps) but much closer to what we remember the old 'round stamp' Boosey and Hawkes Sovereign of the mid/late 70's. It has surely been helped by the improvements made in construction. There is no real need to try and blow like Maurice Murphy on Star Wars as the instrument can take a fair amount of welly before it starts to distort. Why you would want to do that is beyond us anyway.
At the other end of the Beaufort scale, the instrument retains its integrity even if you are just about whispering into too.

The cornets tested (one in lacquer and one bright silver plate) produced a very warm, well centered sound in all ranges. However when more projection was needed this was no problem, making this a very versatile cornet indeed. In the hands of a player who knows what they are doing then the tone can be subtly darkened or brightened to suit the occasion.
Overall: Again – enhanced rather than revolutionised by being put together with an appreciable bit of craftsmanship.

MARKS: 23/25
---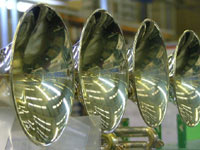 Overall Performance/Value:
The 'new' Prestige is a marked improvement on the old model – without a shadow of a doubt.
What was good with the old model has been retained and enhanced by the obvious improvements in the build quality and design of the new Prestige. This has given what was a fine, if flawed instrument, a level of consistency that now makes it a truly outstanding cornet.
With fierce competition at this end of the market, you should be able to hunt around for a good deal too, and the cornet does come in a well made case, and a Denis Wick RW3 mouthpiece (although it is always worth asking for one that suits you instead to clinch a deal in the shop).
Prices vary slightly but coming in around £1,400 – £1,500 it's at the top end of the scale compared to its rivals the York Preference (around £1,500) and the Yamaha Xeno (around £1,250).

Overall: A real step in the right direction. We now have an instrument that still looks as good as Pamela Anderson in a swimsuit with the added bonus that underneath it hasn't been put together by two monkeys with a welding torch and lump hammer. It's the real deal now.

MARKS: 23/25
---
Overall comment:
Besson has taken its time in making sure that the 'new' Prestige really does meet the demands of players who are willing to fork out a lot of hard earned cash for a top of the range instrument.
The result is an excellent product manufactured to a very high standard. Crucially on the evidence we have seen, the instruments are now built to the standard generations of players have come to expect from Besson.
Hard to find fault in fact – although Besson know that if they let their standards drop by the merest margin then all this good work in reviving a market leading brand name will have come to nothing.
Overall Total:

Build Quality and Design: 24 points
Intonation: 23 points
Ease of Blowing and Tonal quality: 23 points
Overall performance and value for money: 23 points
Overall Score: 93 points
---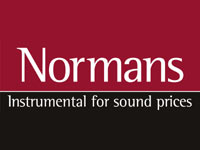 Specifications:
Both instruments were lent to us by Normans Musical Instruments, where both can be purchased.

· Visit the Normans Musical Instruments website
http://www.normans.co.uk/
· Bore size through valves: .468" (11.89 mm)
· Bell diameter: 4.875" (124 mm)
· Weight: 1.225 kg
· 2 water keys
· 3 centre sprung Monel valves with dual point action
· Fully adjustable microball main tuning slide trigger
· Main tuning slide and third valve slide gold-plated
· Top and bottom caps gold-plated
· Black Onyx inserts in gold-plated button tops
· Optional heavy bottom caps supplied
· Lacquer or bright silver-plated finish
· Supplied with Denis Wick mouthpiece RW3
. Woodshell, cordura covered case with luxurious red lining, music pouch, accessory compartment and shoulder strap
4barsrest Classifieds
Hucknall & Linby Brass
Hucknall & Linby Brass - 3rd Section Midlands Champions, Butlins Runners Up, Leicester Open Champions, Bolsover Entertain...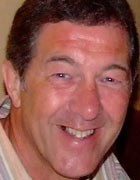 Derek Renshaw

Conductor, Band Trainer and Adjudicator.