4BR Roadtest: Wallace Collection Eb Soprano Cornet
24-Jul-2006
First there was the Schilke and then the new Yamaha Xeno. So is the new Wallace Collection soprano, a mix of Scottish and the German better than both of these?
---
Introduction:

A bit like London buses, for ages there was just the one Routemaster to take you to soprano heaven, and then all of a sudden a whole fleet of them come along to tickle your fancy.

This time it is the Wallace Collection's, John Wallace inspired Eb soprano cornet. Built in Germany and endorsed by a Scotsman it sounds as if it should be a cross between a Mercedes Benz and John Logie Baird.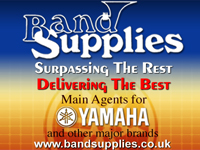 The great trumpet player has long been regarded as one of the most thoughtful and intelligent performers of his craft throughout his career, so now that he has hung up his playing spurs so to speak he has helped to turn his attention to the production of high class brass instruments, aimed, it appears, at the top end of the market place and the professional or semi pro player.
Launched in late 2005, the Wallace Eb soprano has yet to breakthrough into the mainstream brass band market place, although as the makers insist that each instrument is hand crafted to the same standard they offer to their professional trumpet clients, you can possibly see why.

We have had our mitts on one for the past month courtesy of Band Supplies Ltd
As usual we put the instrument through its paces and marked it out of 25 in four main sections to give an overall total out of 100.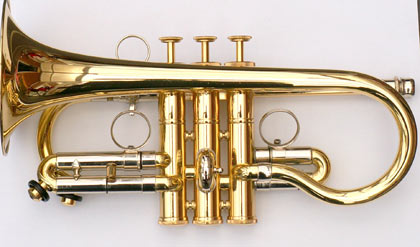 Those categories are: Build Quality and Design; Intonation; Ease of Blowing and Tonal quality and finally, Overall performance and value for money.

We played on the Wallace Collection soprano cornet, gold lacquer finish, with a Vincent Bach 17C mouthpiece.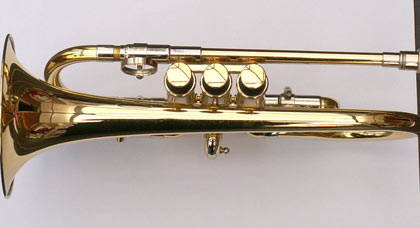 This is what we thought of it.
---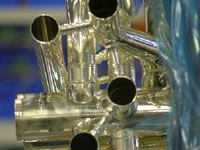 Build Quality/Design:
The first thing you really notice about this instrument is its looks. Heidi Klum it ain't, but it is still a striking looker, even if it is on the petite side of things. Handcrafted in Germany by Jurgen Voigt, all the nuts and bolts are as sturdy as a female Iron Curtain shotputter, even if it is all packaged into the size of an old East German gymnast.
The components do have that stamp of quality though, with slick and well toleranced slides and excellent Monel valves, which are facile and well balanced, if a little noisy. They could do with having felt beds on the valve tops rather than the hard rubber. The instrument has a nice neutral balance to it too, even if it is a bit fiddly to hold.

The lacquered finish did have some discoloring on the rim of the bell though, although the sliver plate furnishings were excellent. It is top end of the market quality and put together with Teutonic pride and efficiency, even if there are a couple of little teething troubles. Everything does its job, as it should.
Like most things Germanic, looks come second to practicality, although in this case that can be questioned a little.
The compactness may lead to problems for those who do not have hands the size of a Willy Wonka Oompa Loompa, and although there are adjustable first and third finger rings as well as little finger ring, it is still a bit of a squeeze unless you happen to have hands like a Singapore airline stewardess and your fingers are not like uncooked Walls pork sausages.

The biggest problem though lies with the position of the second valve tuning slide, which is on the left hand side of the instrument and not the right. The makers report this is a design issue due to the instrument having a main tuning slide like a trumpet and not a tuning shank, like most regular soprano cornets. They do however recognize that this may cause problems and leave players who wish to get a good grip with a dent in their left palm in which they could pop a table tennis ball. They are open to the possibility of a redesign in future if it becomes a major drawback.
The same could also be said of the rather unique 'Saturn ring' waterkeys, which seem to be a clever type of universal joint that can be pressed in any direction to open the water key port and let your spit out. It looks great, but we wonder if the plastic ring itself may not last too long with over vigorous use or an occasional bump. It is guaranteed for the lifetime of the instrument though, so the jury may be out on that one.
The instrument we tested was the standard model with brass bell and brass leadpipe, but in future the makers hope to be able to give a variety of selections of leadpipes and bells, in line with what is currently available with their Eb trumpet.
Overall: Just a couple of teething problems which can be overcome build quality wise, but something of a possible major problem due to the compactness of the instrument layout and that second valve tuning slide. 20 points
---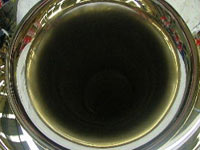 Intonation:
Here is where this instrument really scores. Throughout the entire range the Wallace felt remarkably secure and true, from the depths below the stave (where no soprano player dares to go without a very good reason), right up into the stratosphere (where they should only go with a good supply of oxygen and lip like a front bumper of a Ford Chevy).
The real test came with the mid range though. Middle C is just about bang on and moving up the range there was no sense wayward tuning. Middle E was well centered and top A on first and second was not sharp at all. Further up it stayed true to form too even up to a top D on first valve (just as good a the Xeno in fact).
A great deal of playing in tune is to do with the player who pushes the air through the tubing, and we used a Vincent Bach 17C, which was helped also by the mouthpiece receiver which allows for a snug fit and good position for this and just about any type of old metal you play.
It was impressive even when you went for broke and aimed for the stars with the blowing or when a bit of delicacy was required and there was a need to keep the airflow constant and even. Judicious use of the trigger rings helps, especially at the lower end of the range (although mid range stave playing seemed nigh on perfect) and a good sop player (usually highly intelligent and discerning) will enjoy the freedom conventional fingering will allow.
Very good stuff.

Overall: Very little to fault here and much to enjoy, although it won't make a poor player any better in tune if they don't themselves use a bit of intelligence. 23 points
---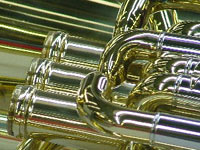 Ease of Blowing/Tonal Quality:
Bearing in mind that this is a handmade job, the Wallace still took a little bit of time to get used to when blowing at either end of the dynamic range. There is a nice free flowing feel to the instrument, although you do have make sure that you get the air through it in a constant well regulated stream.

As with the Xeno (which has a bore of .445" to the Wallace 0.437"), it is not an instrument that suffers fools gladly and a player with a poor production technique or lack of breath support will find it a real struggle. It is an instrument firmly set at the top end of the market and towards experienced top level players and professionals. The reward for good technique is clear and the benefits can be heard. This is an instrument that can make very good players sound exceptional, but average players sound strained and lacking security.
Tonal quality is variable – and we mean that in the best possible way. With leadpipes made from Brass, Silver Nickel, Gold Brass, solid silver and Cooper, and bells that will eventually come in Copper, Heavy Gold, Gold Brass, plain brass and silver the opportunity for top class players to experiment and tailor their instrument to their needs is obvious. We do emphasize top class though, as having a gold bell and silver nickel leadpipe won't necessarily produce the 'moody' sound that the makers say could well be yours.
With the brass leadpipe and brass bell on this instrument, the makers state you should produce the 'classic' sound (whatever that is – Peter Roberts, Alan Wycherley perhaps?), but unless you are approaching their standard then you may not really notice that much difference if you opt for the other options such as 'Zing', 'Bright', Dark' or 'Intense'.

We found the tonal quality very good; bright enough to give that edge on top of a band, but with a bit of thought, still capable of being darkened to blend where necessary. Mouthpiece choice is of course a consideration, but with a fairly standard VB 17C there was plenty of scope to experiment without having more additional plumbing than DIY gynecologist, with the mouthpiece receiver an excellent innovation that works well.
Overall: Again very good, but an instrument made to be played well. It will bite the unwary or the under prepared. 23 points
---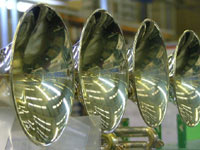 Overall performance /Value for money:

There is no doubt the Wallace is a very fine instrument. Given who it has been developed by and the market it has in mind, it is an instrument that should appeal to players who are looking for something a touch different, but which also fits in with their existing playing commitments.

Its more immediate appeal may well lie in the semi pro/professional end of the market where performers more used to extensive trumpet work could find it easier to get on with than say a Xeno, Courtois or Schilke.
The major plus points are to be found with the intonation, ease of blowing and tonal quality, whilst the downside comes with the design and little bits of the build quality (although the latter should be easily overcome).
The instrument is available in lacquer silver or gold plate and comes in a neat Gotz gig bag with room for two other trumpets (or even two other sopranos). It is envisaged that the main model will be available with changeable bell and leadpipes from August this year, although the makers ask you to bear in mind that they are hand made jobbies, so they don't chuck them out like Model T Fords off the production line.
The instrument also comes with a bespoke Allan key to adjust the finger rings etc, so don't try changing things with something left over from an IKEA flatpack.

As for value for money?
Well, the makers inform us that the standard solo model like the one we tested should come in around 1850.00 - 1950.00 +VAT, whilst if you are looking to add those little extras in the plumbing and bell departments, then you could well add anything up to an additional 500.00 on top. Prices are very much in line with their existing Eb trumpet in this respect.
That places the Wallace in the premium brand sector of the market with the Schilke, but you do get something handmade and tailored to your needs. There are cheaper alternatives of course and possibly more suited to the brass band player, and whilst it is always nice to have something a bit different to show off with, at present, and given the problems most players may have in being comfortable with it in their hands, it may be a choice for a select few.
Overall: If you are looking for something very good, expensive and very nearly unique then the Wallace fits the bill. However, just like an expensive Mercedes sports car, it won't be the most comfortable thing you ever owned. 21 points
---
Final thoughts:
A fine instrument that is aiming high and just about delivering in full. Needs some tweaking and a bit of thought in the design department maybe to really hit the mark, but it is an instrument that the serious player should really consider if they are prepared to pay a premium price.

Overall Total:
Build Quality and Design: 20 points
Intonation: 23 points
Ease of Blowing and Tonal quality: 23 points
Overall performance and value for money: 21 points
Overall Score: 87 points
---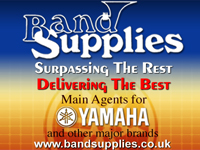 Specification:

Bore: .437"
Hand lapped Monel valves
1st and 3rd slide adjustable trigger ring
Adjustable little finger ring
Selection of bell types
Selection of leadpipes
Saturn waterkeys on main and 3rd slide
Adjustable mouthpiece receiver
Main tuning slide
Price:
1850.00 – 1950.00
(Additional costs for interchangeable items)
The instrument was lent to us by Band Supplies Ltd, where it can be purchased.
7, Hunslet Road
Leeds
LS10 1JQ
Tel: 0113 245 3097
Fax: 0113 234 1602
glasgow@bandsupplies.co.uk
13/15 Old Dumbarton Road
Glasgow
G3 8QY
Tel: 0141 339 9400
Fax: 0141 3348157
4barsrest Classifieds
Harrogate Band
We currently have vacancies for EUPHONIUM & HORN players to complete our ambitious and dynamic teams. We rehearse on Wedn...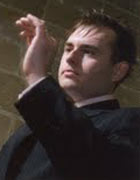 Eliot James Darwin
B Mus
Conductor, Band Trainer, Private Tutor of Performance and Theory, Cornet / Trumpet player, Brass Specialist