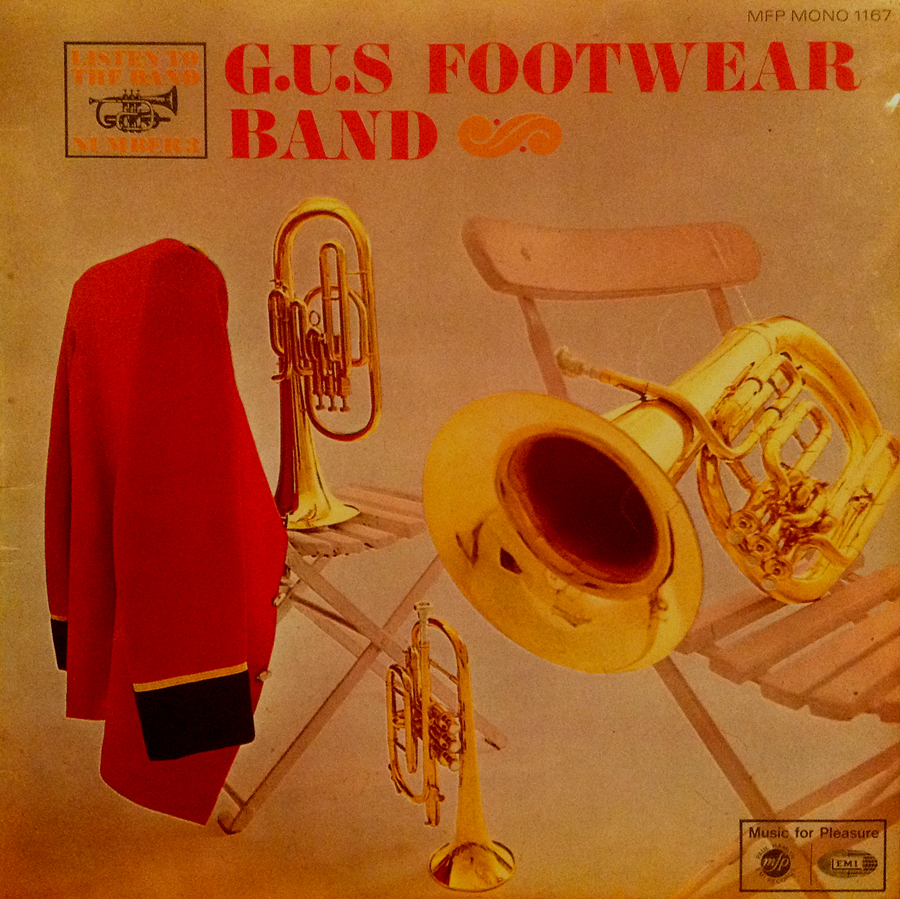 This is the near perfect record of commercially inspired brass band duplicity.
Ostensibly, it's a 1967 recording of GUS Footwear Band playing easy listening music under iconic conductors; part of Music for Pleasure's 'Build Your Own Library' collection that you could buy each week from Woolworth for just 12 shillings and sixpence a pop.
Except that it wasn't.
Careless Rapture
The mid-60's were still a golden age for record collecting, with Music for Pleasure marketing itself as 'Britain's biggest-selling LP label'.
As part of your 'collection' (think of the those modern day 'Make your own Titanic ship' in 204 weekly issues magazines) you could build a library that contained everything from the Waikiki Beach Boys' 'Breeze of Hawaii' and Sir Laurence Olivier reading 'Psalms from the Bible' to Ivor Novello's 'Careless Rapture' or even Michael Tippett's 'Concerto for Double Strings'.
Eclectic doesn't come close to adequately describing it: It was mind-bogglingly bizarre.
Duplicity
All this, and just a few months after they had won the 1966 National title on 'Le Carnival Romain', you could now drop your stylus on your record player to hear the GUS Footwear Band.
Except, that's where the duplicity came in.
It was in fact a re-issue of an old 1957 Munn & Felton 10" 'Bandstand' mono recording on the EMI label. A fine band without doubt (the name change came in 1962), but not the one that had just notched up its fifth win at the Albert Hall.
Not that the LP told you as much: A certain F J Beckingham regaled the purchaser with the lines: "The GUS (Footwear) Band has no superiors in its taste and presentation of brass-band music and its outstanding soloists add further prestige to its magnificent reputation."
There was no mention of when it was actually recorded either: Even Ronald Binge's famous 'Cornet Carillon' was called 'Christmas Lullaby'.
Only clue
The only clue for brass band aficionados came with the list of players.
This was a band of men called Wilfred, Frederick, Cecil and Albert. There was no John Berryman, David Read, John Cobley or Trevor Groom to be seen - or more accurately (with the exception of David Read who played on a couple of tracks as a guest when a raw recruit in the Welsh Guards), even heard.
Some sort of deal had alledgedly been done, (by all accounts the band was not involved and didn't even get a free copy for their troubles) and by a rather dubious sleight of commercial hand, a ten year old mono recording became a freshly minted (complete with new cover) release.
Elasticated rubato
It was a pity they weren't more 'up-front' about it all, as the playing is an aspic-pickled delight; all light in high-pitched timbre (with the occasional hint of a crisp G trombone and sweet sop), shimmering vibrato, and in the case of the items conducted by Harry Mortimer, driven by a form of elasticated rubato.
The pieces are gems - especially the novelty items, which are played with an effervescent virtuosity that 60 years after they were actually recorded, still bring a smile to the face.
Curiously though, you are still left wondering just how many people bought it thinking they were getting the real thing.
Then again, how many of them actually went on to complete their collection of the advertised 150 titles on the internal dust cover?
At a one a week rate in early 1967 it would have taken them until after the first man stepped on the Moon.
Iwan Fox
With thanks to David Read and Tim Mutum
Track List:
Side 1: (Conducted by Harry Mortimer)
1. Royal Standard (Chesterton)
2. Napoleon Galop (Martyn) & Bees-A –Buzzin' (Siebert)
3. Christmas Lullaby (Binge)
4. The Thunderer (Sousa arr. Mortimer)
5. Washington Post (Sousa)
Side 2: (Conducted by Stanley Boddington)
1. Liberty Bell (Sousa)
2. Early One Morning (arr. Seymout)
3. Brass Band Blues (Gould)
4. Leaps and Bounds (Spencer-Brianne)
5. Galopade (arr King Palmer-Ball)
6. Washington Greys (Grafulla)