4BR Music Review: Five very different concert works
1-Apr-2011
4BR looks at five very different concert works from the new generation of brass band composers.
---
If you are thinking of trying something a little bit different in a concert or entertainment contest this year, why not have a look at these pieces from a group of our most talented new generation of composers.

You certainly won't be accused of not being innovative…
---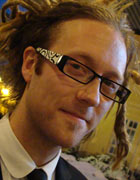 Lock Horns, Rage On – Simon Dobson

What about this as an opening march?

Not even Dicky Evans could swagger to this one. It's a brilliant mix of very personal ideas and thoughts distilled into a kaleidoscopic melting pot inspired by the mental health problems associated with Obsessive Compulsive Disorder.

Not your usual William Rimmer Whit Friday favourite then, but equally as robust, challenging and original.

It's a genuine 100% one off, that has all the elements of 150 years of march tradition thrown up in the air, and then as if caught by an OCD sufferer, re-arranged in a very specific, if very odd new order.

Explain to your audience what it's about, and see the scales of misunderstanding fall from their eyes.

To find out more about this work go to:
www.fabermusic.com/Composers-Details.aspx

---
Danse Macabre Variations – Benjamin Tubb

Think Jonathan Creek – the tousled hair nerdy guy who solves what appear to be impossible crimes.

Now think Camille Saint -Seans – and think of midnight in the churchyard, an open crypt and the sound of an eerie violin…

Put them together and you get this cracking work from Benjamin Tubb.

We first heard it at Butlins a couple of years ago with Hepworth featuring violinist Bianca Blezard and it's an inventive, highly enjoyable set of variations on that famous scratchy theme.

It's tricky and colourful (but not overlong) and will take a bit of playing, but a band with solid soloists and ensemble should be able to deliver it with that extra touch of devilment.

A few of the passages will need a bit of detailed rehearsal work, but there is nothing that can't be overcome, although you may need to get the violin lead miked to carry the sound of the band in full flow - but the effect is well worth it.

And if you can get Vincent Price to introduce it too….

To find out more about this work go to:
www.benjamintubb.com
---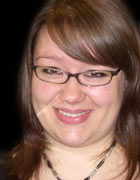 Stuck In the Middle With You – Lucy Pankhurst

Clowns to the left of me,
Jokers to the right, here I am,
Stuck in the middle with you.

Cue Mr Blonde in Reservoir Dogs…..

The iconic 1970s Stealers Wheel hit received a fresh lease of life when Quentin Tarantino used it as part of the soundtrack to his film about the aftermath of a messed up robbery and its coloured coded protagonists.

Arranged by Lucy Pankhurst, it's a great new take on the Gerry Rafferty/Joe Egan classic that takes you right back to its original 1972 heyday.

It's full of that deceptive pulse and funk feel and has plenty of work for soloists and the ensemble.

It will take a bit of playing and a sense of style to really bring to life.

Sure to get the feet tapping and revive memories of loon pants and tank tops, bad hair and the 3 day week.

There is no need to revive memories of Mr Blonde in action with his cut throat razor though…

To find out more about this work go to:
www.themusiccompanyshop.com/index.html
---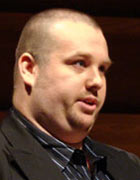 Lament (from Macbeth) – Peter Meechan

Peter Meechan wrote the test piece 'Macbeth' for the 2007 Scottish Open Brass Band Championships, and it immediately struck a chord with the scope of its originality – and especially with the beauty of its central lament

The story of Shakespearian dark goings on in the Macbeth household are well known, but this wonderfully lyrical centre piece can bring the hairs on the back of your neck on end.

There is a growing sense of cumulative emotion, led by the flugel horn and underpinned by an evocative pulse that reminds you of the very best Ennio Morricone could muster.

Dark, bold and very beautiful, it makes you wonder why Macbeth married his troublesome missus in the first place…

To find out more about this work go to:
www.petermeechanmusic.co.uk/
---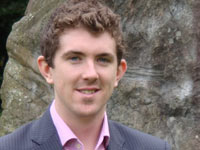 'I Bob Un' – Tom Davoren

If you are looking for an high tempo finisher that can get even those most English of John Bull's singing 'Cwm Rhondda' on the way home from your concert then this could be the one for you.

It's an exploration of Caradog Roberts' hymn tune, 'Rachie', 'I Bob Un' (which means 'one for all') and is a new upbeat and modern twist on an old chapel favourite.

It's full of the sweeping melodies interspersed with high powered rhythmic drive, a frantic fugue and wizz bang close.

Soloists are asked a fair bit to earn their corn, whilst a good percussion section is a must, in what are three clearly defined sections.

It's bold, colourful, exciting and very Welsh, but that's not a bad thing is it now?

To find out more about this work go to:
tomdavoren.co.uk/
4barsrest Classifieds
Darwen Brass
Friendly 3rd section band would like to recruit permanent cornet players and percussionists to continue into the next stage o...
South London Fellowship Band
Date: 4-Jun-2013
Venue: Mini Tour (4th June to 7th June 2013).. See 'Concert details'.. Further information to follow.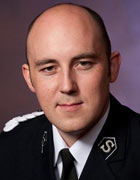 Jonathan Corry
MMus, BMus (hons)
Conductor & educator