Book Review - Banding Is My Life
3-Aug-2007
Denzil Stephens has had a wonderful life in brass - and he recalls it all with real affection too with his life story.

---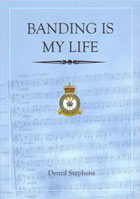 For many people in the brass band movement the name of Denzil Stephens is one that has a particular resonance.
Born in the Channel Islands he was evacuated to the UK as a child at the beginning of the Second World War, and although he was brought up in a Salvationist musical family it wasn't until he found a new home in Yorkshire that his talent was nurtured, developed and finally became all encompassing in the secular environment of the brass band movement.
As a player he became Principal Euphonium of Black Dyke, as a bandsman in the RAF he became a musician, and as a professional musician in civvy street he became a successful and talented conductor of many top flight bands. It is a story familiar to many men of his generation who had a love of, but little idea at first, of how to make a living from music.
Music and banding in particular has indeed been his life, but this affectionate and at times slightly rambling biography shows that there has been much more to him as a man. From the early almost idyllic days in the Channel Islands, through the harsher realities of working class Yorkshire, the discipline and commitment of the services and finally the acceptance of a new and varied life as a itinerant professional musician and eclectic businessman he has been very much his own man. He has been someone not afraid to take on new challenges in whatever form they have come to him, from setting up new business ventures to learning how to cook.
There have been many constants – none more so than his beloved wife Glenys (a friendly and always immaculate presence by his side) as well as his love for banding, its characters and even the pitfalls and occasional glories. Throughout the book you sense that he knew just what was important and what was not, and that is brought into context by the lack of any sense of boastfulness about any of his considerable banding achievements.
In fact the book is more about the man and his life away from banding as it is about the times in which he played and conducted and the highest level. It therefore makes for a much more interesting read, even if the style of writing is rather quirky to say the least.
His involvement with the great bands and greater players and characters are mentioned – from Black Dyke to Cory, Mortimer to Whitham and beyond, but all are recalled with a kindly warmth of a man whom to many who did not know him could appear stern and aloof at times, especially when conducting.
Perhaps that was why he never quite managed to stay at any one band long enough to really bring the very best out of them.
At Carlton Main for instance he sowed the seeds of a great band in the making, but left to go to Cory before anything of real note could be accomplished. There he rejuvenated a tired band, living on the glory of a National win and turned them into a force to be reckoned with once more – winning honours including the European Championship (something that gets just a cursory mention in the book). Again though it never quite amounted to what it should have although the ultimate glory of their hat trick of National wins was in no small way down to his groundwork even if it did take the particular genius of Major Kenney to bear it fruit.
And so it went on – from north, south, east and finally west, and a happy semi retirement in Cornwall, still conducting, still exploring new avenues to keep him busy. Where ever he went he improved bands - even if sometimes they didn't even know it.
Banding Is My Life is a timely reminder that a life lived in music is never a life wasted.
4barsrest Classifieds
Stannington Brass Band
A further PERCUSSIONIST (either tuned or kit) required for this 1st Section Stannington Brass, Sheffield. Sensible balance of...
Newark Town Band
Date: 26-May-2013
Venue: AEC Commercial Vehicle rally at Newark Showground, Nottinghamshire NG24 2NY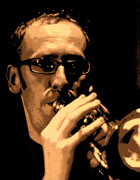 James McCabe
MSc, PGCE, LRSM
Cornet/Trumpet Soloist and Tutor