Mnozil Brass - Magic Moments
11-Jul-2011
Those crazy guys have come up trumps once again with their latest DVD release - all thanks to Perry Como...
---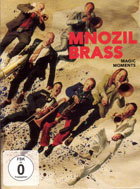 Mnozil Brass
Magic Moments

To purchase this DVD, go to: www.4barsrest.com/shopping/dvds_detail.asp

One of the many wonders of Mnozil Brass is the group's ability to come up with something radically different with every new show they create.

Whether it is 'The Trojan Boat' or 'Irmingard', Mnozil's powers of self re-invention are of a level that Kylie Minogue or Madonna could be proud of.

Factors

There are however two fundamental factors that underpin everything they do.

First and foremost it's the playing that amazes on every level; whether it be the bewildering variety of the repertoire, the screaming trumpet antics of Thomas Gansch or the wonderful fluidity in numbers such as 'You've Got a Friend', as performed with stunning style and artistry on this latest DVD.

Secondly, and despite the comedic fun of much of what they do, it is the consummate professionalism with which their stage shows are executed; moulded with choreographic precision, yet acted out with an apparent spontaneity that in reality comes from many hours of preparation, graft and fine tuning.

No time

Not that there's time to think about that when watching as the action unfolds in a mesmerising stream of sketch like scenes interspersed with musical interludes that constantly surprise and beguile.

The production values of this DVD release are as high as you would expect from the ensemble.

The action is captured in high quality vision and sound, whilst a bit of interactive fun allows a number of brief 'magic moment' video extras.

Don't miss the 'Emergency Room' scene where various items are extricated from Leonhard Paul's chest, or the Daliesque 'Bertl's Dream' - both typically bizarre, but unquestionably funny.

Perry Como

For anyone that hasn't seen the 'Magic Moments' show already, it's a shame to give too much away, suffice to say, Leonhard Paul underpins it with his moments of 'conjuring' that appear at various stages throughout the show.

The gushingly sentimental strains of the ubiquitous Perry Como's song are given a predictable new lease of life early on in the proceedings.....albeit in a guise which in true Mnozil fashion is a tad unexpected, whilst the naturally comic facial expressions of Leonhard Paul, Robert Rother and Gerhard Füssl are exploited to hilarious effect.

Sheer brilliance

For sheer brilliance however, there are several scenes that once seen are never forgotten.

The 'Pythonesque' arrival of Mnozil on stage playing the 'Arutuniun Trumpet Concerto' on mock horseback leads into a wild west saloon brawl acted out in slow motion that is nothing short of remarkable.

Thomas Gansch's screaming trumpet playing in the theme from 'The Streets of San Francisco' (a real blast from the past!) and the ensemble's recreation of Michael Jackson's 'Thriller' video are pure gold.

Stealing the show

It falls to the remarkable gifted Leonhard Paul to steal the show though, with a one man quartet sketch that verges on the unbelievable - although his introduction to the members of the ensemble through the medium of the trombone is also a feat that is as clever as it is hilarious.

I shall give no more away!

Theatrical, zany, surreal; there are so many adjectives that can be used to describe the truly unique Mnozil Brass, but above all of this is the simple fact that they are seven musicians of the highest musical calibre, delivering playing of astonishing quality.

Christopher Thomas
4barsrest Classifieds
Kibworth Band
Required:. Due to work commitments, vacancies have arisen for a PRINCIPAL EUPHONIUM and a Bb BASS player to complete our band...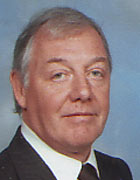 Alan Widdop

Conductor, Brass teacher, Adjudicator (ABBA)