Clarence Adoo Brass Band
8-Nov-2012
Conductor: Jonathan Corry
Chelmsford Citadel SA
Saturday 15th September
---
The Clarence Adoo Brass Band is a truly unique phenomenon in the banding world; essentially a scratch ensemble comprising many of the country's finest brass players who come together every two years to perform a concert in aid of the Clarence Adoo Trust.
Testament

Clarence enjoyed a fine career as sub-principal trumpet of the Northern Sinfonia and as a Salvation Army Bandmaster, until in 1995 a freak road accident left him paralysed from the neck down.
As a testament to Clarence's positive and inspiring personality, many musicians whom he has worked with over the years gladly give their time to take part in the biennial event to raise money to support his ongoing care. The band rehearses only on the day of the concert.
Each concert has a guest conductor, and this year the honour was given to Jonathan Corry, Bandmaster of the Salvation Army's Enfield Citadel Band.
Varied and uplifting

The programme, chosen by Clarence himself, was varied and uplifting – the MD getting things off to a flying start with the upbeat festival march, 'Faith is the Victory' followed by the overture from Mozart's 'The Magic Flute'.
There were quieter moments, too, with Eric Ball's 'The Pilgrim Way' and a relaxed swing-band style arrangement of 'All to Jesus I Surrender' conducted by the composer himself, Eiliv Herikstad, who had flown over from Norway especially for the concert.
Eiliv also conducted his march 'Shoeburyness' which was commissioned by Clarence in honour of his home Salvation Army corps.
Soloists

The first solo came from Christopher Deacon, principal trumpet of the Royal Ballet Sinfonia who played 'The Queen of the Night' on piccolo trumpet, whilst tenor horn virtuoso Phil Randell turned to Mendelssohn for his famous, 'Violin Concerto'.
The range of music was epitomised by two pieces which Clarence himself conducted: First, the majestic 'Variations on Laudate Dominum' from the pen of Edward Gregson, followed by the devotional 'The Compassionate Christ' by Dean Goffin.
Fine overshadow

The evening's magnum opus was Robert Redhead's 'Quintesessence', but for many, this fine piece, although excellently executed, was overshadowed by 'The Compassionate Christ' and the context in which Clarence placed it.
Immediately before he conducted (using only head movements and facial expression), he recalled his time in hospital when he first realised he was paralysed. His approach was, 'What now God?'
He testified that God had promised him a more fulfilled life and had kept that promise, and as a result he gave thanks for everything that has happened to him since.

Uplifting

A truly uplifting event also featured video clips of Clarence playing in the British Paraorchestra, including a performance at the closing ceremony of the Paralympics.

There was also footage of him receiving his MBE from Prince Charles earlier this year.

Brian Nichols
4barsrest Classifieds
Middleton
Vacancies have arisen for a 2nd Trombone and Front Row / Repiano Cornet player with this friendly and enthusiastic 2nd Sectio...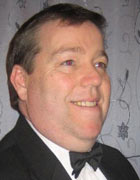 Andrew White
MA, B Ed (Hons), ADNCB, BBCM, PGCE, Cert. Ed
Conductor and educator