Royal Greenwich Brass Band
26-Oct-2012
Conductor: Stephen Maw
Regent Hall
Friday 19th October
---
Despite losing eight players at the last minute due to college commitments, the Royal Greenwich Brass Band provided an entertaining programme for the lunchtime audience at Regent Hall.
Opening with the march 'Under Two Flags', it was clear that the band was in fine fettle, particularly strong in the bass and trombone sections.

Stephen Maw made the most of the dynamic contrasts, with the 'Rule Britannia' quote played in a very legato style.
Civil War commemoration
Leidzen's 'Post Bellum Rhapsody' was delivered with characteristic chromatic harmonies and abrupt changes of key, whilst Dean Goffin's 'Symphony of Thanksgiving', with its references to the tunes 'St Philip' and 'Praise My Soul', was performed very well indeed - the tempos set allowing all the detail to be heard, with soprano and trombone outstanding.
Celtic exuberance
Stephen explained that the band enjoyed playing the music of Peter Graham, and that 'Gaelforce' was a popular item on their concert repertoire – a fact borne out by a very spirited performance.
Russian finale
For the finale, 'Coronation Scene from Boris Godunov', the percussion section was augmented by the transfer of one of the cornet players.

All four players were kept fully occupied, especially the glockenspiel and tubular bells and the ebb and flow of the music was tightly controlled, building up to a thunderous climax.
As an encore, Stephen directed a performance of 'Nimrod' that was full of refinement, keeping the music flowing.
This was greeted in silence before the applause broke out to mark the end of what is perhaps the best concert given by the band at the Brass Arts Festival.
Peter Bale
4barsrest Classifieds
Harrogate Band
We currently have vacancies for EUPHONIUM & HORN players to complete our ambitious and dynamic teams. We rehearse on Wedn...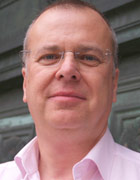 Nigel Seaman
ARMCM ARNCM
Conductor,band trainer,teacher and adjudicator