Best of Brass, Maryborough QLD
11-Jun-2007
Saturday 9 June
Brolga Theatre, Maryborough
Featuring the New South Wales Fire Brigade band, Brisbane Brass and Windsor Brass
---
It's Saturday evening and Maryborough's Brolga theatre is abuzz. The foyer is brimming over with lines of people waiting to take their seats for the Gala Concert, featuring Brisbane Brass (Greg Aitken), Windsor Brass (Howard Taylor) and the NSW Fire Brigade Band (Mark Reay).
As the seats fill to near capacity, the lights dim on time and in front of the curtain, Bill Barker and the Maskara Flamenco dancers get us underway. As the curtain rises, Bill is joined by John 'Christo' on Flugel and the rest of Brisbane Brass, in a show band set up on risers. B.B.'s program follows this Spanish theme, to the delight of a supportive audience. There's plenty of colour and variety. Ben Beavis (just returned from a long stint as a cruise ship musician) in a change of pace is featured next on trumpet, playing Gabriel's Oboe.
After a few laugh's at Greg's expense as he demonstrates the language of the Fan, ("I'm available, I like you etc") Maskara are back with new costumes in vibrant colours in an energetic Fan dance. Bizet's Carmen (featuring the cornet section) is next, followed by John 'Christo' playing Rodrigo's Adagio from Concerto d'Aranjuez, with the dancers providing a nice visual touch. Appreciative silence greets John and the Band as the Flugel finishes with a warm, lingering note, before generous applause.
The Habanera (showing off this fine cornet section-and how great to see Mr Wilf Knott still playing strongly!) and then Blades of Toledo (with great work by the trombone section) conclude this part of the concert; a wonderful performance with loads of energy and colourful variety to set the tone for the night.
The James Bond Theme is Windsor Brass's first offering, complete with footage of 007 in Casino Royale on the big screen. This is followed smoothly by Ashley Gittins with the euphonium solo The Holy Well theme from Peter Graham's On Alderley Edge. The audience is silent as he plays this beautiful melody (all the while looking right at the audience, sharing each note with us) taking in the lyrical phrasing. There are a few moments where the band isn't quite with the soloist, but Mr Taylor soon brings it all back together. How can two opening pieces bring such variety of style, dynamics and emotions? Moulin Rouge's Diamonds are a Girl's Best Friend is next, again with video footage used to great effect. Another change of pace sees Guest vocalist Rhian McDonnell introduced to sing Somewhere Out There.
Sadly, Rhian's beautiful rich voice wasn't as well supported by the accompaniment as she deserved, with frequent intonation problems and wrong notes creeping in to mar an otherwise lovely performance.
Ashley and his 'Eupho' return to play the classic Grandfather's Clock - with a difference. Just as the band commences the introduction, two other players walk out with a trombone and a Flugel and place these at his feet. He hams it up, acting surprised and deliberating over which one to use. He has the audience in the palm of his hand, wondering what will come next. Opening theme and variation one are on the trombone, followed by variation two on the Eupho and a cadenza featuring some amazing multi-phonics. He then picks up the Flugel for a prestissimo final variation before ending on Eupho for the coda, soaring to a high 'G' to finish. Whole minutes of applause follow, with a display of appreciation requiring a curtain call!
A sober moment occurs then, as Howard Taylor gives the sad news that Waratah Band (Newcastle) has lost their entire library in the storm and flood that has hit NSW this weekend. He asks for people to consider giving any assistance possible and that the Waratah bandsmen and women be in our thoughts.
Windsor's final item is Joshua Fit the Battle of Jericho - an innovative arrangement with Ashley back as Narrator. A mixture of Majestic battle themes and swung style narrative over simple riffs tells this famous Bible story.
There's plenty of comedy as the narrator gets a bit over excited and then upsets Adrian Dadds by interrupting an impromptu drum solo with 'hey, little drummer boy, knock it off!' The band gets right into the mood of things and march, shout and chant their way through the story.
Is there anything this band cannot do? We've seen beautiful serious playing and singing and now this dramatic presentation.
Interval - and the audience are still buzzing! We have more of this feast to go.
Positive comments flow all around me: "what a great night…. What awesome triple tonguing…. What a showman…..what a beautiful tone…." etc.
The NSW Fire Brigade Band get the second half underway with their superb drummer soloing on stage as section by section, the band walk on adding their riffs to the sound. The crowd love them from the start and I can't believe the energy and drive of the players - especially my favourites, the sousaphones!
They suddenly realise that the soprano hasn't arrived and we get some hilarious interplay between him (up in the balcony) and the band as he pretends to make mistake after mistake for which the bandies bag him severely.
Conductor Reay is funny and engaging as he comperes their bracket, with an incredible pace and excellent timing. The band segues from tune to tune seamlessly and then we meet the real stars of the show: the dance/ marching/ precision drill team!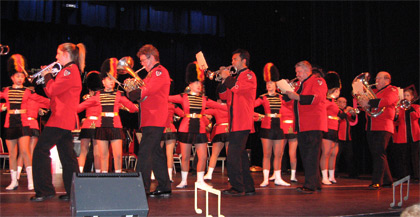 NSW Fire Brigade Band and Marching Girls strutt their stuff
These 'girls' are amazing and keep us enthralled with their excellent choreography and costumes. They are obviously enjoying themselves and their interplay and timing with the band is polished. We learn later that both the band and marching girls were short several players and that the routines had to be hastily revised. Well you wouldn't have known!
The audience is clapping along and having a ball when suddenly, unexpectedly, the band plays the most sober and dynamic version of I'll Walk With God. There is the odd blemish in parts and some 'fudging' here and there in the faster stuff, but who cares? It's so entertaining and I'm amazed with the colourful flamboyance of it all.
There's always something happening: Mexican waves, slapstick comedy, movement and soloists, featured sections, high kicks and most of the music seems to be memorised. It's hard to give an account of what they played, everything happens so fast! We see countermarching as 50-odd performers move around the stage - how do the Sousaphones not collide?
A little bit of Mr Reay's Salvo background comes out with a tricky medley of old 'Sally' songs that ends with two sousaphones trying to find the exit. A spectacular finish to a wonderful night. I, and the rest of the audience, have thoroughly enjoyed it.
A final announcement is made that a portion of the proceeds from tonight's event will be sent to help the embattled Waratah Band. Great news welcomed by everyone in attendance.
Mary Unwin
4barsrest Classifieds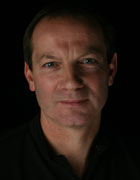 Dr Nigel Clarke
DMA ARAM FLCM FVCM FTCL FRSAÂ 
Composer, Clinician