Omnium Gatherum
8-Dec-2012
Brass Band of Central Florida
Conductor: Chad Shoopman
Doyen Recordings: CD293
Total Playing Time: Approx 60 mins

---
If Michael J. Garasi was the guiding light behind the rise of Brass Band of Central Florida during his hugely successful tenure as Musical Director, then there is no doubt that Chad Shoopman also has stamped his own musical personality on the band since his arrival too.
High class

The stream of high class arrangements that have flowed from his pen are a case in point - four of which are featured on this CD, with many from fascinating composers such as Albert Ginastera and Maynard Ferguson.

For a musician that had little experience of a British style brass band until he took the conducting reigns, Shoopman sure has taken to it like a mottled Florida duck to Everglade water.

Thrilling

He is also a remarkable jazz trumpet player – something shown to startling effect when leading the band to second place at the 2011 Brass in Concert Championship – and which has inspired his players to continue to provide their unique brand of brass band entertainment.
His stratospheric showmanship is thrilling - especially on Ferguson's 'Give it One' and Arturo Sandoval's 'A Mis Abuelos'.
Adventurous

Overall, the programme is adventurous, although underpinned by some traditional foundation work.

The opening 'Heroic Fanfare' sets a blazing celebratory tone whilst Frank Perkins' exotically laced 'Fandango' with its restrained central section is the perfect counterpoint in featuring the band's flexible percussion section.

The brief 'March' from 'The Love of Three Oranges' is played with just the right mix of juicy bombast and sharp tongued Russian irony, whilst the truncated final half of 'Music of the Spheres' is despatched with impressive bravado as the band displays its natural affinity with the space age accent of Sparke's music.

Sheer verve

For sheer verve though it is impossible not be knocked off your feet by the excerpts from Alberto Ginastera's ballet 'Estancia'.
The gentle flowing style of 'Danza del Trigo' is beautifully captured, with the almost orgiastic frenzy of the 'Danza Final' (Malambo), made famous by Gustavo Dudamel and his Simon Bolivar Youth, given a blister-inducing meaty thrash, as if played by a pack of marauding gauchos.

Sensuous

Amongst the other soloists, the nuanced flugel sound of John Copella is displayed in the languid tones of Piazzolla's sensuous 'Oblivion', whilst Warren Kus captures the frenetic air of the Bernstein like 'Tres Minutos con le Realidad' with such a classy feel of intuitive improvised style.
Sop star Dee McAfee gives a thumping 'Nessun Dorma', played straight from the heart: Pumping with passionate emotion like a Florida oil well that has struck testosterone.

Unsung hero

However, for sheer understated brilliance it is kit player Rich Sweat who is the unsung hero.
He oozes such a deft appreciation of style that it leaves your ears straining to isolate its source, with his contribution on 'The Trolley Song' and 'Give it One' alongside cornet player Chris Dolske, a perfect exhibition of the kit player's art.

Warmth

There are a few occasions when the vibrancy of band sound yearns for warmth and less sharply edged textures – with Sparke's 'Prelude, Romance & Finale' just becoming brazen at times, whilst the British swagger march still seems a slightly alien concept.
However, in a way it is that approach that gives Florida its vivid musical identity – one that has the ability to thrill your American pants (British trousers) off.
When it comes to what it does best – and much of it is shown here in the big band, swing and jazz infused items, they are in a class of their own.
We should be immensely grateful that they continue to love providing it in such a brilliant way too.
Christopher Thomas
What's on this CD?
1. Heroic Fanfare, Paul Murtha, arr. Chad Shoopman, 1.15
2. Fandango, Frank Perkins, arr. Howe, 3.53
3. Give it One, Alan Downey, arr. Jim Derrick, Chris Dolske (Cornet), Rich Sweat (Drum-set) and Chad Shoopman (Trumpet), 3.39
Fanfare, Romance and Finale, Philip Sparke
4. I. Fanfare, 2.05
5. II. Romance, 1.54
6. III. Finale, 3.43
7. The Trolley Song, Ralph Blane, arr. Harris, adpt. Jim Derrick, Chris Dolske (Cornet) and Rich Sweat (Drum-set), 3.56
8. Oblivion, Astor Piazzolla, arr. Rick Mizell, John Copella (Flugel Horn), 4.12
9. March from The Love for Three Oranges, Sergei Prokofiev, arr. Chad Shoopman, 1.42
10. Tres Minutos con la Realidad, Astor Piazzolla, arr. Fred Sturm, adpt. Chad Shoopman, Warren Kus (Tenor Horn), 2.39
11. Danza del Trigo, Alberto Ginestera, arr. Chad Shoopman, 3.31
12. Danza Final (Malambo), Alberto Ginestera, arr. Chad Shoopman, 3.39
13. Nessun Dorma, Giacomo Puccini, arr. Simon Kerwin, Dee McAfee (Soprano Cornet), 2.51
14. Ravenswood, William Rimmer, 4.20
15. A Mis Abuelos, Arturo Sandoval, arr. Jim Derrick, Charlie Peshek (Flugel Horn), Chris Dolske (Cornet) and Chad Shoopman (Trumpet), 5.17
16. Excerpts from Music of the Spheres, Philip Sparke, 7.52
4barsrest Classifieds
Stannington Brass Band
A SOLO TROMBONE player required for this 1st Section Stannington Brass, Sheffield. Sensible balance of concerts & contest...
Newark Town Band
Date: 26-May-2013
Venue: AEC Commercial Vehicle rally at Newark Showground, Nottinghamshire NG24 2NY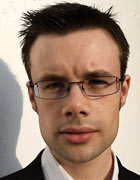 Jack Smith
BMus (Hons) MMus ATCL
Conductor, Composer/Arranger, Teacher