75 Not Out
12-Oct-2012
Fairey Band
Conductor: Mark Peacock
Soloists: Sarah Lenton, Benjamin Richeton, Mike Eccles, Yasuaki Fukuhara
Doyen Recordings: CD 301
Total playing time: 74 mins approx
---
What does one of the world's most famous bands record a particularly significant, historical anniversary?
A light entertainment programme, featuring possibly the latest big movie theme or pop songs, suitable for Joe Public to part with hard earned cash, or four or five major works which are intrinsically connected with your ensemble but will appeal only to die-hard aficionados?
Eclectic mix

Fairey have sensibly chosen to go with the former, with an eclectic mix of tracks to appeal to as wide a range of potential buyers as possible on this a highly enjoyable 75th anniversary recording.
There's no 'Festival Music', 'Triumphant Rhapsody' or 'Masquerade' (a trio of some of their great major triumphs) but 16 tracks taken from their concert repertoire over the last couple of years – with a number of lesser known items making a welcome appearance.
Double Jubilee

Appropriately enough, a 'Jubilee' opens the release - two of them in fact, with the overture by Philip Sparke and the march by Paul Drury.
Sparke's work was originally written for the GUS Band's 50th birthday, and gets a reading full of brio, whilst the march whizzes through the strains of 'Bound for Canaan's Shore' with real gusto.
Quirky

Paul McCartney's quirky 'Honey Pie' is played with the subtle wit required, whilst John Williams' 'Flight to Neverland' swoops and dives across the aural synapses with Ben Richeton hitting some pretty supersonic soprano notes along the way.
'Innuendo' is a cracking reminder of iconoclastic Freddie Mercury at his best, and Peter Meechan's arrangement pulls no punches in its equally bold, brash, but utterly compelling treatment - especially in the middle section with the personnel clapping out the Spanish flamenco rhythms.
Twirl

As a contrast 'Libertango' has that beautiful languidness that would have the Strictly Come Dancing contestants clambering over each other to give it a twirl.
Rodney Newton's excellent sleeve notes state that 'In Love for Me' was heard as a hymn whilst arranger Phil Harper was working at a catholic school.

However, its true origin hails from a musical, 'The Witness', based on the life of the apostle Peter, which composer Jimmy Owens never intended to be a hymn tune.
Whatever; it receives a lovely reading, keeping to the simple meaningfulness you suspect was always intended.
Bradman and paddy fields

Rimmer's, 'The Australasian' has all the swagger of Don Bradman in full pomp, whilst the 'Japanese Slumber Song' conjures up lovely visions of paddy fields, paper houses and fair maids in kimonos.
The four soloists are all on top notch form:

Sarah Lenton is a lyrical joy in the reflective 'Donegal Bay', Mike Eccles shines in Ben Tubbs' 'Hope', Ben Richeton seduces with Colombier's 'Emmanuel', (written for a 1971 album and not the film!), whilst 'Taps in Tempo' has Yasuaki Fukuhara on wizard form on the xylophone.
Tight leash

A bold 'Procession to Covenant' and vibrant, 'Seize the Day' round things off with a real flourish.
Mark Peacock directs with an admirably tight leash on the dynamics and subtle feel for the differing musical styles, and the production work from Brian Hillson and Fergus Murphy is first rate.
Despite one or two little blemishes, Fairey is on sprightly form for a band that can now claim help with extra heating costs in winter - and there are not too many 75 year olds around quite like that.
Steve Jack
What's on this CD?
1. Jubilee Overture, Philip Sparke, 6.27
2. Jubilee!, Paul Drury, 2.29
3. Japanese Slumber Song, Gareth Wood, 6.55
4. Donegal Bay, Paul Lovatt-Cooper, Sarah Lenton (Baritone), 4.21
5. Innuendo, Freddie Mercury arr. Peter Meechan, 5.41
6. Honey Pie, Paul McCartney arr. Sandy Smith, 3.15
7. Emmanuel, Michel Colombier arr. Mark Freeh, Benjamin Richeton (Soprano Cornet), 3.12
8. Libertango, Astor Piazolla arr. Jeremy Sleith, 3.37
9. The Australasian, William Rimmer, 3.08
10. Hope, Benjamin Tubb, Mike Eccles (Flugel Horn), 4.27
11. In Love for Me, Jimmy Owens arr. Philip Harper, 4.07
12. Flight to Neverland, John Williams arr. Richard Rock, 4.37
13. Bess, You is my Woman, George Gershwin arr. Robin Dewhurst, 4.24
14. Taps in Tempo, Jan Berenska arr. Rodney Newton, Yasuaki Fukuhara (Xylophone), 2.56
15. Procession to Covenant, William Himes, 6.09
16. Seize the Day, Peter Graham, 8.08
4barsrest Classifieds
Elland Silver Band
Would you like to play Purcell Variations at the National Finals? We are seeking a 2nd Baritone and Percussionist to complet...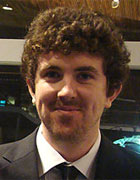 Tom Davoren
MMus, BMus, dipHE
Composer, Conductor, Creative