Jewels
25-Aug-2012
Eminence Brass
Featuring: David Childs, Philip Cobb, Owen Farr, Richard Marshall
Doyen Recordings: CD296
Total Playing Time: 74.05
---
Launched with a sparkling recital complete with encores at the recent International Brass Band Summer School, you can hear why the lucky delegates at Swansea University were clearly spellbound by the technical virtuosity and distinguished musicianship displayed by the 'Fabulous Foursome' who sit firmly ensconced in the seats of Eminence Brass.
Worth the wait

Formed just a few years ago by a quartet of performers whose remarkable reputations remain at the very pinnacle of brass playing, 'Jewels' is only their second album. It has been well worth the wait.
The programme content is significantly different from the first, entitled, 'Tribute', presenting a colourful and contrasting collection of transcriptions from the classical repertoire, virtuosi solos and original compositions that features the ensemble in a kaleidoscopic variety of musical styles.
Substance

The 21 tracks vary in length but not in substance, resulting in constantly changing panoplies of programme content. The finely honed balance and the scintillating brilliance of the performers, both individually and as an ensemble, make for compulsive listening.
Impeccable

The vibrant pace of the Mozart overture, 'The Marriage of Figaro' captures the attention of the listener with its unerring rhythmic drive, energy and impeccable note lengths, providing a perfect aperitif for equally memorable performances of music composed by Karl Jenkins, Handel, Vivaldi and John Taverner to follow.
A change of momentum and direction sees original content from the pens of the rapidly emerging Dan Price, together with the talented duo of Christopher Bond and David Harrington - both products of compositional studies at the Royal Welsh College of Music and Drama.
There is also a lovely work from well known euphonium performer Derrick Kane which sits comfortably in a programme designed to satisfy the most discerning palate.
Title track

That is certainly summed up in the title track, 'Jewels' by Eric Ball – a lovely composition that has been sadly forgotten until now. It is performed with simplistic beauty and a finite quality of musicianship that is unsurpassed. The composer could not have asked for anything better.
Superb solos

The solo contributions are superb.

Philip Cobb delivers a sparkling rendition of the well known examination solo, 'Concert Etude' by Goedicke – the flowing technical challenges swept aside with the momentary stylistic changes completely appropriate to the cerebral mood of the music.
There is further exhibition playing with Owen Farr's stunning treatment of the finale from the Haydn 'Cello Concerto No1', whilst Richard Marshall delivers an impeccable 'Napoli'.

David Childs plays with such elegant brilliance in the Arban version of 'Carnival of Venice', that it is hard to think of it being performed better such is the degree of flawless detail and control.
Lollipops

The tasty lollipops such as 'Stars & Stripes', 'Pokarekare Ana' and the breakneck finale from 'William Tell' are played with startling virtuosity, before the programme concludes with the 'encore' of 'Tiger Street Rag'.
The quartet certainly evoke the rhythmic bounce of the New Orleans Dixieland style, even if we could have just done with a bit more of the Pee Wee Hunt inspired "doo-wack-uh-doo" cornet mutes just to capture the perfect essence.
Irisated

Recorded at St. Basil's Church, Bassaleg earlier this year, the album is attractively packaged with informative programme notes by David Childs, whilst the overall quality of this production certainly lives up to its irisated title.
C Brian Buckley
What's on this CD?
1. The Marriage of Figaro, Wolfgang Amadeus Mozart, 4.02
2. Lascia ch'io Pianga, George Frederic Handel, 1.51
3. Concert Etude, Alexander Goedicke, Cornet soloist Philip Cobb, 3.07
4. Hymn from Songs of Sanctuary, Karl Jenkins, 2.35
5. Palladio, Karl Jenkins, 2.45
6. Introduction & Fugue, Antonio Vivaldi, 3.28
7. The Lamb, John Tavener, 3.24
8. Finale from Concerto No.1, Franz Joseph Haydn, Tenor Horn soloist Owen Farr, 3.57
9. A Simple Reel, Dan Price, 5.04
10. Eminence, Christopher Bond, 3.42
11. The Four Musketeers, David Harrington, 6.40
12-14. The King of Brodgar, Derek Kane, 6.01
(i). Spirit of Stones, 2.10
(ii). Monument, 2.40
(iii). Dancing Stones, 1.10
15. Stars and Stripes Forever, John Philip Sousa, 2.16
16. Napoli, Herman Bellstedt, Cornet soloist Richard Marshall, 5.10
17. Jewels, Eric Ball, 4.11
18. Carnival of Venice, Jean-Baptiste Arban, Euphonium soloist David Childs, 4.53
19. Pokarekare Ana, Paraire Tomoana, 2.06
20. Finale from William Tell, Gioachino Rossini, 2.59
21. Tiger Street Rag, Euday Bowman, 4.23

4barsrest Classifieds
Stannington Brass Band
A SOLO TROMBONE player required for this 1st Section Stannington Brass, Sheffield. Sensible balance of concerts & contest...
Newark Town Band
Date: 26-May-2013
Venue: AEC Commercial Vehicle rally at Newark Showground, Nottinghamshire NG24 2NY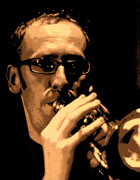 James McCabe
MSc, PGCE, LRSM
Cornet/Trumpet Soloist and Tutor