Podcast: 2006 Melbourne International Festival of Brass
Mon, 09 Oct 2006 16:10:00 GMT
Presented by Rick Casagrande.
In this podcast we look back at the 2006 Melbourne International of Brass (MIFB) from September 25 to October 1, 2006.
It includes interviews with Barry Tuckwell prize winner, Josh Davis; the man himself Mr Barry Tuckwell; one of the winners of the McCommish March Composition Award, David Keefe; Guest artists Sergio Carolino, Rex Richardson, and Randall Hawes; composer Doug Richards; and Event Co-Director, Geoff Collinson.
Also includes sound clips from the final concert including a short voice introduction from Bobby Shew.
Playing time: 00:42:34
4barsrest Classifieds
Uppermill Band
Excellent opportunity waiting for you at Uppermill Band -1st Section. We have the following vacancies to complete our very c...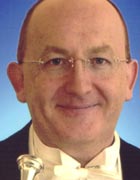 Steven Mead

Euphonium Soloist, teacher, adjudicator and conductor