Radio: Sunday Bandstand
31-Dec-2011
Plenty of great music for the New Year with Chris Helme.

---
Sunday Bandstand:
Broadcast on Phoenix FM 96.7 community radio in the Halifax area of West Yorkshire. This programme is also available via www.phoenixfm.co.uk Every Sunday afternoon from 2pm to 3pm
Produced and presented by Chris Helme or further information please see: www.chrishelme-brighouse.org.uk
It is also available via Podcast from the Radio Phoenix website.
I am always pleased to receive requests—you might want to hear a piece from your own early days in banding, recordings that have long since joined the record deletions list and difficult to find.
Or have a burning nostalgia question about the world of brass bands, if you have then please contact me via e-mail:
Sunday 1 January:
Rhythm and Blues - Opening for weekly show
Philip Sparke
Fodens Band
MD: Michael Fowles - 2010
Cairo Red Shield
Arthur Raikes
Black Dyke Band
MD: Dr: Nicholas Childs - 2010
Beautiful Galatea
Franz von Suppe
Black Dyke Mills Band
MD: Major Peter Parkes - 1988
Espana Waltz
Waldteufel arr: Martyn
Harry Mortimer Diamond Jubilee Concert
Men 'O Brass' - Combined bands of Foden's, Fairey and Morris Guest
MD: Harry Mortimer - 1971
Carnival Variations
Jacoby
Cornet Trio Derek Garside, Brian Cronshaw & Alan Holmes
With the CWS (Manchester) Band
MD: Alex Mortimer - 1963
Angels
Chambers arr: Steve Sykes
Roberts Bakery Band
MD: Colin Cranson - 2011
Foxtrot Between Friends
Gordon Langford
Duet: Peter Read Cornet - Graham McEvoy Euphonium
With the Besses o'th' Barn Band
MD: Roy Newsome - Royal Albert Hall Saturday 6th October 1979
Titanic Selection
James Horner - arr: Andrew Duncan
Yorkshire Building Society
MD: Dr. David King - 2002
Lustspiel Overture
Keler Bela arr: Martyn
W.D.& H.O. Wills Massed Bands: Morris Concert Band - Ransome and Marles Band
Yorkshire Imperial Metals Band—
Guest MD: Harry Mortimer - De Montfort Hall, Leicester 22 March 1970
Il Bacio
Arditi arr: Thomas Bidgood
Cornet Solo Nigel Cavill
With the Royal Doulton Band
MD: Ted Gary - 1976
Traffic Tangle
James Howe
Yorkshire Imperial Metals Band
MD: Trevor Walmsley - 1973
Radetzky March
Johann Strauss
Brighouse and Rastrick Band
MD: David Hirst - 1994
Rhythm and Blues
Philip Sparke - Ending for weekly show
Fodens Band
MD: Michael Fowles—2010
---

Foden's with Michael Fowles

Featuring the British Open and
National Championships test pieces



4barsrest Classifieds
LGB Brass
LGB Brass based in Lewes East Sussex is looking for an additional front row cornet player due to job relocation. Third sectio...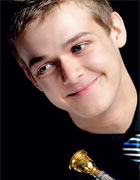 Matthew White
BMus (hons)
Euphonium Soloist, Teacher, Conductor