Report & Results: 2012 National Championships of Great Britain
20-Oct-2012
Foden's enter the history books at the Royal Albert Hall as they make it a 2012 'Double'.

---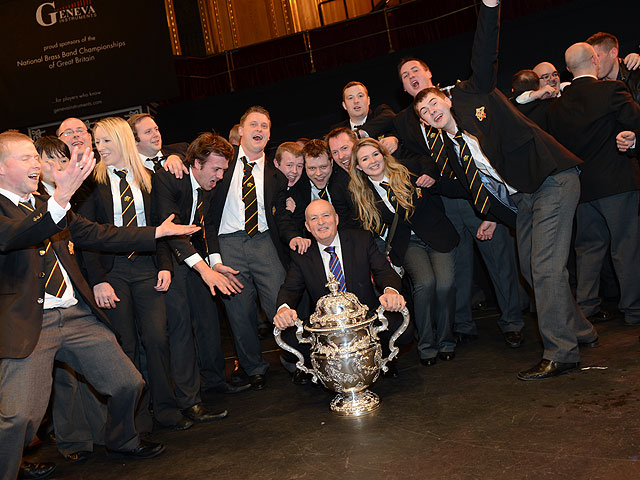 You need to be logged in to play this media file
102 years of accumulated dust will now have to be blown off a celebratory banner that proclaims a 'Double' champion, as Foden's joined the pantheon of the greatest ever Sandbach bands in history by winning the National title at the Royal Albert Hall.
Rare honour
A magnificent performance of Ravel's 'Daphnis et Chloe' under the direction of Allan Withington saw them claim the rare honour of being able to display the two most famous trophies in banding world for the first time since the signage was last unfurled in triumph in 1910.
Different strands
On a day when different strands of banding history could have been written, the British Open winner's wonderfully melancholic interpretation gained universal approval with the adjudication trio of arranger Howard Snell, Paul Cosh and Ray Farr, as well as the vast majority of listeners in the famous old hall.
It also meant that they were able to deny Brighouse & Rastrick's herculean hat-trick challenge under the baton of David King.
The Yorkshire band gave everything in their colossal effort at securing their own place with the banding immortals—with a number of players moved to tears as they left the stage following a rendition that was greeted with a roar of appreciation that could have been heard in Buckingham Palace.
Thrills and delight
A little way behind them, Philip Harper led a thrilling account from Cory into third place, whilst there was sheer delight for Tongwynlais Temperance as they secured the last pre-qualification place for next year's event with an excellent performance under the direction of Steve Sykes.
Earlier in the day Fairey had won many admirers with their exciting interpretation under Russell Gray to eventually end fifth, whilst Co-operative Funeralcare emphasised their return to major contesting form by claiming sixth place under Allan Ramsay.
Lollipop overdose
Thanks to Frank Renton whipping the audience (numbers were well up this year) into a bit of a frenzy prior to the announcement of the results with an overdose of lollipop delights with the Grimethorpe Re-union Band, there was a real crackle of anticipation in the air as compere Peter Bates slowly announced the identities of the prize winners.
With just two places left to be revealed, most people felt it was going to be a fight between the heavyweight trio of Black Dyke, Brighouse and Foden's - although it was the European champion that found their deliberately structured interpretation under Dr Nicholas Childs did not resonate with the judges, eventually ending 9th.
Cries of celebration
The broad sighs of disappointment that filled the air from supporters of the West Riding defending champion as they saw their hat trick aspirations denied were soon replaced by the loud cries of celebration as Foden's laid their hands on the most famous trophy in the banding world for the first time since 1999.
Now, long serving players such as Mark Wilkinson, Glyn Williams and John Barber can match the achievement of their famous 1910 forefathers such as Edwin Firth, Percy Shaw and George Hinkinson.
"It's unbelievable," Glyn told 4BR through tears of joy, whilst his equally emotional wife Helen just added: "I've waited my entire playing career for this."
Special feeling
Tuba player Phil Green who only returned to the band in the last few weeks appeared even more shocked: "I'm so glad I took the chance to come back and help out. To be a double champion is something very special."
On a day when the contribution of soprano players came under intense scrutiny, Foden's 'Best Instrumentalist' award winner Richard Poole spoke of his delight at being able to play his part in a historic triumph.
"I'm so happy for the band," he said. "It means so much to the players— especially as so many have been playing together well over the ten years I've been with the band. I'm happy for myself of course, but even happier for everyone associated with Foden's—it's a great band to be part of."
Congratulations
Others conductors also led the chorus of congratulations.
Desford's MD Martin Winter, who plays next to Allan Withington in the trumpet section of the Bergen Philharmonic Orchestra said. "He's such a wonderful musician—and his interpretation was a thing of beauty today. He captured the style of Ravel perfectly.
We should have a nice celebration with him back at work on Monday."
No secret
The Norwegian based MD has now emulated the achievement of the Foden's conducting legend Fred Mortimer in claiming a seventh national title—although it is not something he really thinks too closely about.
"There's no real secret to success here," he modestly told 4BR as he clutched the Stanley Boddington Memorial Trophy in one hand, and his delightful wife Kirsten in the other.
"Sometimes what I do works, sometimes it doesn't," he said, before revealing that perhaps the secret of this success lay in following the advice of his very knowledgeable partner.
"Kirsten told me to forget playing it like a Sparke or Gregson test piece, and just play it like Ravel. I followed her advice and tried to copy the moods and colours that Ravel is famous for."
Favour in box
It was certainly an approach that found complete favour in the box—as Howard Snell and Paul Cosh later told 4BR. "There was a quite wonderful performance from Brighouse & Rastrick that we felt was close to being unbeatable," Paul said.
"Then came Foden's and we knew it was simply fantastic—just what we were looking for. It was beautiful playing."
"We were all in agreement," Howard stated. "It was a superb performance full of the right sense of mood and style, with wonderful balance and textures. I have to congratulate the winning MD in being able to create so much music from the score."
Sympathy
Amid the congratulations, there was sympathy for the defeated champions who gave everything in pursuit of a historic third victory under their inspirational MD, with soprano player Kevin Crockford in particularly breathtaking form.
Euphonium star David Thornton told 4BR: "It was an amazing performance and experience. We came off shaking with emotion."
Many critics felt it was perhaps the finest National performance directed by David King himself - one that drew deep musicality and raw emotion from the pages of the score.
Unfortunately for the Australian, on this occasion it wasn't quite enough to secure another unique entry in the banding history books.
Four from Wales
Meanwhile, Cory's MD Philip Harper was very pleased with his band's efforts as they claimed a second successive major podium finish under his command.
"I was very happy at the way the band performed today," he told 4BR. "I couldn't have asked for anything more."
Wales will once again send four bands to the finals after Tongwynlais claimed fourth place with a performance that was notable for its security and cohesive musical approach under Steve Sykes.
"We are all thrilled," Band Secretary Jenny Jones said with a slightly hoarse voice following some late night celebrations. "We have built on our performances throughout the year and Steve's approach really boosted the band's confidence. It's a historic result for the band."
Disappointment
Meanwhile, Fairey's Band Manager Martin Gernon spoke of a touch of disappointment that the North West challengers couldn't quite find their way onto the podium for a third consecutive year.
"It was a performance that lots of people said was right in the mix today," he stated. "The players, especially Ben Richeton on soprano were superb and Russell really brought the music out of the score. We felt we were right in with a chance, so we are a little disappointed in coming fifth."
Scottish celebration
Not so Scottish banding, which had cause for celebration with Co-operative Funeralcare's top class credentials gaining further credence under Allan Ramsay in sixth, with Whitburn's elegant interpretation under Erik Jannsen only just missing out on a mention from the stage too.
Bold and confident
A boldly confident Flowers posted a second successive top ten finish under Paul Holland in eighth, whilst in contrast there was an air of gloom surrounding supporters of pre-contest favourites Black Dyke and Leyland, whose contrasting interpretations—one rather manufactured in its precise structure, the other more vivid but occasional wayward, ended ninth and tenth.
Beaumaris, Desford and Tredegar all posted first half performances that gained plaudits (with Desford's flugel player Brian Winter outstanding), but could only end in the midfield places, whilst behind them came a batch of rather varied accounts from Bournemouth Concert, Jaguar Land Rover and Rothwell Temperance.
The immense difficulties posed by Howard Snell's arrangement caused numerous problems for all 20 competitors, with purposeful efforts from Felling, Zone One, Barton and Staines filling the remaining places in the results table.
Sweet hangover
No such problems for the victors and history makers however, as Foden's headed for what promised to be a night of celebration to remember and a long Sunday morning journey home with the sweetest of hangovers.
Claiming a place in banding history comes at a price—but one well worth suffering every 102 years.
Iwan Fox
Further coverage:
Images of the National Finals:
http:/­/­www.4barsrest.com/­articles/­2012/­1347g.asp#.UIUE7MVfDgw
Prize Ceremony
http:/­/­www.4barsrest.com/­articles/­2012/­1347f.asp#.UIUILsVfDgw
The Conductors in action:
http:/­/­www.4barsrest.com/­articles/­2012/­1347e.asp#.UIUISMVfDgw
4BR National Finals videos:
http:/­/­vimeo.com/­channels/­411564
'Kirsten told me to forget playing it like a Sparke or Gregson test piece, and just play it like Ravel. I followed her advice and tried to copy the moods and colours that Ravel is famous for'

~ Allan Withington
Results
Saturday 20th October
Test Piece: 'Daphnis et Chloé' (Ravel arr. Howard Snell)
Adjudicators: Paul Cosh, Ray Farr, Howard Snell

1. Foden's, Allan Withington, 17
2. Brighouse & Rastrick, Professor David King, 11
3. Cory, Philip Harper, 6
4. Tongwynlais Temperance, Steve Sykes, 18
5. Fairey, Russell Gray, 5
6. Co-operative Funeralcare, Allan Ramsay, 19
7. Whitburn, Erik Jannsen, 16
8. Flowers, Paul Holland, 12
9. Black Dyke, Dr Nicholas Childs, 14
10. Leyland, Michael Bach, 8
11. Seindorf Beaumaris, Gwyn Evans, 9
12. Desford Colliery, Martin Winter, 2
13. Tredegar, Ian Porthouse, 3
14. Bournemouth Concert Brass, Major David Barringer, 15
15. Jaguar Land Rover, Dave Lea, 4
16. Rothwell Temperance, David Roberts, 7
17. Felling, Stephen Malcolm, 20
18. Zone One, Richard Ward, 10
19. Barton Town, Nick Sheppard, 1
20. Staines Brass, Melvin White, 13
Best Instrumentalist: Soprano: Richard Poole (Foden's)
More news stories from this band
---

Foden's with Michael Fowles

Featuring the British Open and
National Championships test pieces



4barsrest Classifieds
Uppermill Band
Excellent opportunity waiting for you at Uppermill Band -1st Section. We have the following vacancies to complete our very c...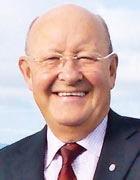 David W Horsfield
F.C.L.
Adjudicator, conductor and music publisher