Lawrence set for Cannes debut
17-May-2012
Composer Phil Lawrence hopes to be rubbing shoulders with Brad Pitt and Angelina Jolie in Cannes...

---
Composer Phil Lawrence will soon be rubbing shoulders with some of the world's most famous film stars and producers at the Cannes Film Festival.
Magnificent Eleven
Phil has written the score to a film called 'The Magnificent Eleven', which will be shown at the world famous event, where it is hoped that it will be taken up for worldwide release.
Inspired by the iconic 1960 film 'The Magnificent Seven', the brand new 21st century 'urban' version comes with a twist—although it does feature the great American actor Robert Vaughn, who starred in the original.
Also in the cast are actors Sean Pertwee, Keith Allen and Paul Barber, whilst the film is directed by Irvine Welsh, the author of the novel 'Trainspotting'.
Story
The story centres on an amateur football team, well past their sell-by date, who help their local Indian curry house battle against extortion racketeers, led by Vaughn in the role of the dastardly 'American Bob'.
Add in the obligatory love interest, plenty of action and lots of laughs and hopefully a new British classic will be seen in the multiplex cinema near you soon.
'It's been an amazing experience—a real hard working 10 week blast, but the end result is a brilliant film which I'm very proud to have been a part off'

~ Phil Lawrence
Blast
Phil told 4BR: "As we couldn't use music from the original film I decided to give it a Bollywood-Bangrah treatment, dictated by the great camera work. It's a bit of a Ennio Moricone, Tex-Mex, Kill Bill, Mariachi blast!"
He added: "There's plenty for everyone in terms of style and genre with sax & trombone, tumpets and vocals, which are sung by Shahin Badar, who did all the backing vocals on 'Smack ma bitch up' by The Prodigy!
It's been an amazing experience—a real hard working 10 week blast, but the end result is a brilliant film which I'm very proud to have been a part off. Now comes the nice bit and a great week in Cannes!"
To see more go to:
www.youtube.com/­watch?v=bFE0P77FruE
---

Foden's with Michael Fowles

Featuring the British Open and
National Championships test pieces



4barsrest Classifieds
SEWBBA Ebbw Vale
Date: 18-May-2013
Venue: Ebbw Vale Leisure Centre, Municipal Offices, Civic Centre, Gwent. NP23 6XB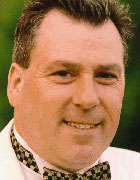 David Hirst
MA, B.Ed (Hons), LTCL
Conductor, adjudicator and arranger