Report & Results: 2012 Ripon Festival of Brass
9-Jun-2012
Entertainment success for Ripon City as they take home town Festival title.

---
There was plenty of great brass band entertainment on offer at the recent Ripon Festival Contest, which was held amid the splendid surrounding of the town's historic cathedral.
Varied
The event proved to be a great success with the audience enjoying a varied selection of music from the 10 competing bands. Adjudicator Richard Evans was equally delighted at the overall standard too, and praised each of the competitors for their eclectic 20 minute programmes.
Excellent form
Ripon City continued on its excellent run of form by claiming the £250 first prize and Championship Rose Bowl under the direction of Malcolm Dibb, with a contest winning set that was described by Richard as being, 'a super show'.
The Third Section national finalists opened with 'Olympic Fanfare & Theme', followed by David Lonsdale's fine euphonium account of 'Donegal Bay'. The march 'Army of the Nile' certainly caught the ear of the man in the box, played with a swagger that he described, 'as just the right tempo', before contrast was provided with 'Deep Harmony' and the finale of 'Swing Time Religion' by Barry Gott.
The band also picked up the award for 'Best March' and the George Percival Memorial Trophy as 'Most Entertaining Band'.
Rivals
Pushing the winners all the way was Yorkshire rivals Gawthorpe '85 conducted by John Edwards, who boosted their second place prize money of £150 with an additional £50 for 'Best Hymn Tune', whilst principal cornet Jessica Whaites took the 'Best Soloist' Award for her rendition of 'Someone Cares'.
Third place and £75 went to Thurlstone conducted by Jonathan Bates, with the top six places taken Leyburn, Knaresborough Silver and University of Hull.
Great boost
A Ripon City Band spokesperson told 4BR: "This is a great boost to the band before we start working towards our Cheltenham appearance in September. It's also a great way to round off our appearances at this contest too—as we will be promoted to the Second Section in 2013."
Lovely event
Contest organiser Paulette Morton added: "It was a lovely event which was rounded off by an excellent concert provided by Fairey Band conducted by Mark Peacock. Everyone involved this year enjoyed the contest, and we are delighted that the contest continues to attract so many bands and such loyal support."
'This is a great boost to the band before we start working towards our Cheltenham appearance in September'

~ Ripon City Band
Full Result:
Adjudicator: Richard Evans
1. Ripon City (Malcolm Dibb)
2. Gawthorpe '85 (John Edwards)
3. Thurlstone (Jonathan Bates)
4. Leyburn (George Lundberg)
5. Knaresborough Silver (Stephen Morland)
6. University of Hull (Peter Kench)
7. York RI Golden Rail (Nick Eastwood)
8. Durham Constabulary (Kieth McDonald)
9. Marske (Alan Prest)
10. Trimdon Concert (John Robson)
Special awards:
Best 4th section or unregistered band not in the first three: Leyburn Band
Best Hymn: Gawthorpe '85
Best March: Ripon City
Best Soloist: Gawthorpe '85, Cornet player Jessica Whaites,
Most Entertaining: Ripon City
---

Foden's with Michael Fowles

Featuring the British Open and
National Championships test pieces



4barsrest Classifieds
The Melton Band
Tutti Cornets, Trombone and Euphonium players required to join a current 4th section, promoted to 3rd section from 1st Januar...
South London Fellowship Band
Date: 4-Jun-2013
Venue: Mini Tour (4th June to 7th June 2013).. See 'Concert details'.. Further information to follow.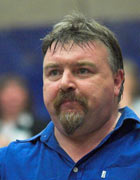 Alan Fernie

Arranger, composer, adjudicator, conductor