Comments ~ 2012: March
7-Mar-2012
Sorry for the delay in posting comments, but we are now back up and running with our post bag. As expected, we cover everything and more from our readers...
---
More than just Dana in the Devil?

I see you are still persisting with your tenuous reference to 1970's Irish chanteuse Dana when talking about 'The Devil and the Deep Blue Sea' - well, six notes of it, anyway.

I know what you're talking about because I'm elderly, but most of your readers (by which I mean those under the age of about 45) will probably be in the dark.

I've spotted an obvious reference to Stravinsky's 'Firebird' in Mr Bourgeois's 'Concerto Grosso', although admittedly that's only five notes long.

Or what about the homage to the same composer's 'Rite of Spring' towards the end of 'Blitz'?

Surely these are more worthy of mention?

Yours in an anorak with the hood pulled up,

Jim Yelland
Hinckley
---
Unfair on the Mountain Views
I think it unfair to refer to Bertrand Moren's 'Mountain Views' as being "insipid".

Of course, musical taste and opinion is purely objective and emotive, but I find the piece to be well written, with some glorious harmonies and great musical moments.

I concede that I do find the ending a little weak, and I have been trying to find ways of making it work for the performance I am directing next week!

I think that there will be few bands that can master this piece.

It calls for detailed intonation and not inconsiderable stamina and, just because it is technically less demanding than one might expect for a First Section Test Piece, this doesn't make it easy.

Personally, I think it a great choice by the Board and I expect many bands to struggle with its grandeur and musicality.

Martyn Ford
---
North West concern

I would like to express my concern with recent coverage of the North West area contest.

Before I make any comments I would first like to point out what may be perceived as a conflict, I am a current member of the Whitworth Vale and Healey Band, but none of my comments represent the views of the band, simply mine as a concerned individual.

I'm not certain that yourselves at 4BR understand the privileged position you hold in reporting on events and news from around the world of brass banding.

You are by far and away the largest provider of resources because of the fact you are a free to use and available truly worldwide. But I think at times comments made by contributors and writers express personal opinions rather than providing content.

I refer in this matter to the retrospective coverage of the Third Section.

Because of 4BRs unique position I think a more independent, unbiased approach similar to that of the BBC would be a better way to provide news and in-depth coverage, as opposed to what comes across as writers unhappy with results given free reign to point out the failures of the organisers and adjudicators.

I think the North West contest is extremely well run and an enjoyable day out for everybody.

But after reading the retrospective coverage of the third section, believe your report devalues the result and makes readers think that the 3 best bands did not win the third section contest.

I also believe that the twitter feed need improving. Rather than giving one man's opinion at 4BR, why not try to put across a flavour of the events at each contest.

The empress ballroom is indeed a magnificent building, but in the 12 years playing at this contest understand the difficulties of the room, but this seems to be the first time 4BR have complained about the positioning of the adjudicator, which by the way has not changed in those 12 years as far as I'm aware.

David Wall
---
Rankings update?

We have been checking your website weekly for an update on the rankings which have stayed the same since 12 December and were wondering why this hasn't been brought up to date.

We live in Aldbourne and naturally would like to know the latest.

Pam and Gavin Dixon

4BR Reply:
Our stats guru tells us they will be updated after the Regional Championships
---
Ringers in New Zealand

It is with some interest that I read of the blight of professional players or "ring ins" that has become prevalent among bands in the United Kingdom contesting scene.

We here in New -Zealand are not immune from this malignancy either.

For some years now two or three of the top "A" grade bands (championship grade) have gone to extraordinary lengths to obtain victory in this class, going so far as to import "key" players (usually from the U.K.)

This is simply because they have the financial muscle to do so.

As you can imagine this does little for the morale of those bands that have to soldier on and contest with what they have around the bandstand during the year.

These bands struggle to raise the finance to attend while knowing there is not the playing strength within the ensemble to compete successfully regardless of how many section practices are held or individual tutorials given.

Occasionally a minor prize may be gained.

The player depth in this country is far less than that in the U.K. and so at times it is hard to cover some seats, this I realise, but should the result of an amateur musical contest be won by those with the deepest pockets?

It would seem that this is the case in many instances.

The result of this of course, is that people who have been in brass banding for many years become frustrated and disillusioned by not being able to compete on a level playing field.

I have always been a believer that the band that you have round you during the year should be the one that takes the contest stand, maybe with help of the two legal "pros" we are allowed here in N.Z., but certainly not a stacked band.

After all, is not Loyalty to one another one of the great things about our movement?

I would like to think so.

Chris A. Campbell
B.E.M. L.T.C.L. A(mus) T.C.L. I.R.M.T.
---
Ceres Jackson

I am doing some family history research and I came across an article on line written by Chris Helm where he mentions the Black Dyke Mills Band and Ceres Jackson, who was my great, great uncle.

I have tried to contact Chris via his e mail but it seems the email is not correct.

On reading this could he give me a contact detail?

Denise Blacknell
---
Promote your own

I support your comments 100% - I think that the solution has now become the problem.

We are a band that would choose to contest with a smaller band and empty chairs or withdraw rather than seek the help of outside players (all of which seem to fill prominent seats, many of them coming from bands in a higher section).

In fact we are starting to consider the benefits of entering local contests as we now regularly 'compete' against bands who have a line-up that is totally different to the players we see representing them at national contests.

The original concept of the rule was sound, but as ever has been abused by bands that are 'trophy chasing'.

Allowing so many 'borrowed' players is a short term solution that is creating a long term problem.

As a band we had to compete last year without our usual principal cornet rather than shipping someone in we promoted a player from our own bench.

The outcome?

A poor contest result (so what) but a player, our player, who has grown and developed due to the experience.

Kevin Jordan
Fairlop Brass
About these comments
We will not print anonymous letters and we will not print your email address 4barsrest has a responsibility to inform our readers of our opinions concerning the many topics of the banding world we cover, and we are proud that we give the opportunity for people to comment with their thoughts about certain topics (including contest results). However, we are very clear that these comments are those of the individual who has written them, and in no way do they indicate that 4br agrees with the sentiments, observations or perceived injustices that are highlighted in them. We will continue to inform and report to our readers, and will give our own opinions and thoughts. We will also continue to give the opportunity to others to do the same, but by allowing people to air their opinions does not, and will not mean that they reflect in any way the responsible and informed opinion that we ourselves hold.
About these comments...
We will not print anonymous letters and ... Read more.
4barsrest Classifieds
LGB Brass
LGB Brass based in Lewes East Sussex is looking for an additional front row cornet player due to job relocation. Third sectio...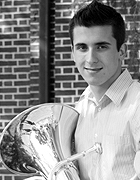 Grant Jameson

Euphonium Soloist, Clinician and Tutor