Event details
---
Contest - Norwegian National Brass Band Championships
---
Date: 7-Feb-2014
Start time: tbc
Venue:
Grieghallen, Bergen, N-5015.

---
Further information:
Norway's National Championships take place in Bergen. Further details available from www.grieghallen.no or +47 (55) 216 100
---
4barsrest Classifieds
The Melton Band
Tutti Cornets, Trombone and Euphonium players required to join a current 4th section, promoted to 3rd section from 1st Januar...
South London Fellowship Band
Date: 4-Jun-2013
Venue: Mini Tour (4th June to 7th June 2013).. See 'Concert details'.. Further information to follow.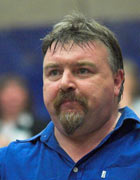 Alan Fernie

Arranger, composer, adjudicator, conductor