Colin Hardy
ABBA, NABBC
Conductor and adjudicator

Contact details
25 Thirlmere Avenue, Wyke, Bradford, BD12 9DS, West Yorkshire
email: colinhardy1503@tiscali.co.uk
website:
home: 01274 674174
mobile: 07753 605634
work:
fax: 01274 674174
More about Colin
COLIN HARDY (Member NABBC, ABBA) began playing at Highfield School under Elizabeth Lumb and Arthur Atkinson before moving to Gomersal Mills Band, during this time he became a member of the National Youth Band for 5 years and in that time achieved both Principal Baritone and Principal Trombone.
He has played in various Championship Bands, 2 years in Crossley's Carpets, 4 years in Brighouse and Rastrick followed by 12 years in Black Dyke Mills Band with whom he won 4 National Championships and 4 British Opens including One Hat Trick and One Double and was a member of the Trombone Quartet that won the Quartet Championships of Great Britain as well as doing Tours to U.S.A. and Canada, Switzerland, Holland and France, also during this time he was also a regular member of the Virtuoso Band.
In 1983 he became the Conductor of The Drighlington Band and during his 10 year stay took them from the Fourth Section to the Championship Section in 7 years a record of which he is justifiably proud. In this time they qualified for the National Finals on 4 occasions winning both the 4th and 3rd Sections in consecutive years, also during this period they won the 4th, 3rd and 2nd Sections of the Pontin's Finals in consecutive years, in all they won 38 contests, in 1993 he left the band to concentrate on his business and do more freelance work.
For nearly 30 years Colin worked in the Music Business dealing with Bands the length and breadth of the country selling Brass Band Instruments and Music for Barratts, Kitchens of Leeds and then in his own Business, Band Supplies Leeds, from which he is now retired.
One of his most recent Pride and Joy's was being a Member of the KINGS of BRASS, who gave regular Concerts and made 3 CDs.
e now concentrates on freelance Conducting and Adjudicating and as well as being an Executive member and Treasurer of the ASSOCIATION of BRASS BAND ADJUDICATORS, he has adjudicated at all the Area Contests in all sections including the National Finals as well as local Contests in England, Scotland, Ireland and Wales, he has also adjudicated at a number of Music Festivals and is on the PONTINS and Butlin's official lists.
4barsrest Classifieds
Newark Town Band
NTB have a vacancy for a Principle Euphonium. We are a happy non-contesting band who would welcome players of all abilities,...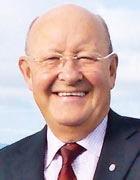 David W Horsfield
F.C.L.
Adjudicator, conductor and music publisher