Jack Smith
BMus (Hons) MMus ATCL
Conductor, Composer/Arranger, Teacher

More about Jack
I studied trombone and piano at Trinity College of Music as a scholarship student, where I was awarded the college conducting prize and graduated with first-class honours in 2007. I then went on to specialise in conducting at the Royal Welsh College of Music & Drama, becoming the first student of the conducting course to be awarded an MMus degree.
My studies at TCM included rigorous training in the college band (on euphonium and baritone) under Stephen Maw, and shortly after moving to Cardiff I was invited to take up the solo trombone chair with the Newbridge (Celynen) Band. At this time I also played as a guest with such eminent bands as Tredegar and Flowers, and consequently learned much from such eminent coaches and conductors as Paul Holland, Ian Porthouse, David Read and Frank Renton.
In 2009 I returned to Gloucestershire and was shortly afterwards appointed Musical Director to Forest of Dean Brass. In 2010 I returned to London with the aim of furthering my career there, which brought this short but successful tenure to an end.
I have worked as a guest and deputy conductor with bands from across all sections, including the Cobham, Newport Borough, Lydbrook, Tilbury and Watford bands, and from January 2012 will take up the post of Musical Director to Epsom & Ewell Silver Band.
In frequent demand as a freelance conductor and trombonist, I am equally at home with band music alongside the orchestral, operatic and choral repertoire. This diversity is something I enjoy immensely, particularly when bringing I can bring my experience in a wide range of musical periods and genres to bear in shaping coherent, stylish performances. My conducting (at the West of England regional championships, 2010) was described by 4barsrest as "a striking performance...a cameo of tasteful restraint and control", whilst adjudicators have often commented on the authoritative, musical style of my performances, and the well-balanced, blended tone I encourage from a band on stage.
My full CV is available on request - or for more information, please visit my website at www.jdsmusic.co.uk
4barsrest Classifieds
Stannington Brass Band
A SOLO TROMBONE player required for this 1st Section Stannington Brass, Sheffield. Sensible balance of concerts & contest...
Newark Town Band
Date: 26-May-2013
Venue: AEC Commercial Vehicle rally at Newark Showground, Nottinghamshire NG24 2NY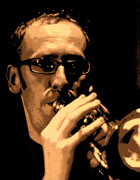 James McCabe
MSc, PGCE, LRSM
Cornet/Trumpet Soloist and Tutor