David Daws
Cornet tutor, Conductor

Contact details
3 Chevalier Close Stanmore HA7 4YW
email: daviddawsfs@aol.com
website:
home: 02089583288
mobile: 07956844364
work: 02089580313
fax: 02089580316
More about David
David Daws was born in Middlesex in 1963 and was taught to play the cornet at the age of three by Maisie Ringham.
A lifetime's ambition to join The Salvation Army's International Staff Band was achieved in 1981 and David enjoyed nearly 21 years with the Salvation Army's premier brass band, becoming Principal Cornet in September 1993.
A two year spell as Conductor of the Regent Hall Salvation Army Band was experienced in between a period of 12 years with The Enfield Salvation Army Band.
David currently conducts the Hendon Junior SA Band which includes membership of his 2 daughters, Stephanie and Isobel.
He is also a regular cornet tutor of the National Youth Brass Band of Great Britain and is currently a York Instrumental artist.
David has made numerous solo engagements around the world. Solo tours have included countries such as Australia, New Zealand, Canada, USA, Switzerland, Sweden and The Netherlands.
David has released a number of solo CDs including - I Hear the Music , The Sound of David Daws, Golden Slippers and a recording with Williams Fairey Band in 2003.
Following a tear in his lip muscle David underwent corrective surgery in December 2008 in Toronto, Canada. He has recently returned to the Hendon SA band and is continuing to make progress from this traumatic injury. David hopes to return as a cornet soloist in 2010.
4barsrest Classifieds
Stannington Brass Band
A SOLO TROMBONE player required for this 1st Section Stannington Brass, Sheffield. Sensible balance of concerts & contest...
Newark Town Band
Date: 26-May-2013
Venue: AEC Commercial Vehicle rally at Newark Showground, Nottinghamshire NG24 2NY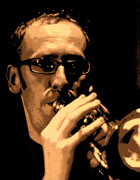 James McCabe
MSc, PGCE, LRSM
Cornet/Trumpet Soloist and Tutor