John Holland
BA (hons) Hum (open)
Composer, arranger and conductor

More about John
I was born in Hastings in 1977, but was raised in Watford. I moved to south London in 2004 with my life partner, Chris, and we're now happily settled down in Forest Hill in our own little place just around the corner from the world-famous Horniman Museum.

My chamber orchestra piece 'Green Sky' won the Making Music Award at the British Composer Awards 2008. In April 2009, the world premiere of my 'Requiem (Opus 15)' took place at All Saints Church, West Dulwich and January 2010 saw the first performance of 'The Something In-Between', an Oboe/Cor Anglais mini-concerto, written for and performed by Isobel Williams. The London Saxophone Choir have presented several new pieces of mine over the last few years, including 'Mission: Improbable' (2008) and, most recently, 'Fanfaricus' (2010). Several of my pieces for chamber orchestra have been performed and recorded by the London Contemporary Chamber Orchestra, notably 'Hustle Bustle' (2006) and 'Elegy for my father' (2007).

I am the conductor of Lambeth Wind Orchestra and the London Consorts of Winds Clarinet Choir, often invited to conduct freelance for special events. I am a member of BASCA, PRS, London Composers Forum and BASBWE, serving on the Executive Committee.
4barsrest Classifieds
Harrogate Band
We currently have vacancies for EUPHONIUM & HORN players to complete our ambitious and dynamic teams. We rehearse on Wedn...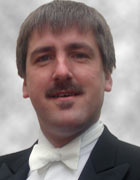 David Stowell

Conductor and composer